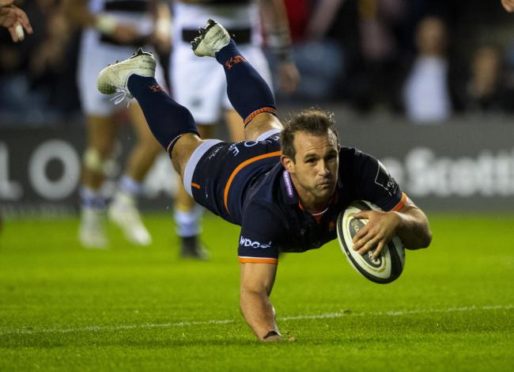 Loch Lomond and the Lake of Menteith are a bit different than the Cape coast – a bit colder, and no sharks – but that hasn't kept Edinburgh's Nic Groom out of the water.
The South African scrum-half is already trying out the various wild water swimming locations in Scotland and "can't wait" to get his wetsuit on inbetween helping his new club go further in the European Challenge Cup and further up the Guinness PRO14.
"I grew up swimming, I was a swimmer long before I was a rugby player," said the 29-year-old from Cape Town. "It's something I try to do wherever I am, even when it was Northampton and Johannesburg.
"I've already had a few swims around Edinburgh, at Portobello beach and Cramond, and to Loch Lomond and up to the Trossachs. I've not been over the winter yet but I'm dying to go…we've got some time off in a couple of months and I'll head up further north."
Not happy with a few lengths of the municipal pool, Groom likes the open water despite what might be in it.
"Sharks? There's sharks everywhere," he laughed. "I was once in the water (near Cape Town) when the sirens went off but luckily no-one was hurt.
"Being in the water, everything quietens down, with the cold and other elements are there. There's a lot of noise vying for our attention all the time and I feel that when you go out in the water you just get into it.
"It doesn't have to be long – I can assure you that it's not long. But just getting in is good for the body. They put race horses in the salt water so they can race the next day so there must be something in it."
Groom has also attempted to convince his new team-mates of the benefits of hydrotherapy – "where we go between hot and cold baths" and has a few converts.
"There is a good crew now doing it," he said. "Damien Hoyland is a fan of the cold. Jamie Farndale, Matt Scott like the hot and cold.
"The theory is the real cold is supposed to clear your mind of everything and that survival instinct will kick in."
In all seriousness, Groom thinks it also helps with recovery from injury but it's the menbtal benefits he most feels.
"I can't scientifically prove it helps get over injuries, but it is something I enjoy doing it and it a real cleansing thing to do," he added.
Groom is set to return to the team after strong performances before the World Cup players returned and he was injured in the second European Challenge Cup game against Wasps this week, as Edinburgh try to go back-to-back against the former European champions and stay in control of their qualification.
"Last week we saw glimpses of what we can do when we played them which was really encouraging," he said. "The great thing for us is that we played well and beat a top side.
"We are playing against a world class set of players who on their day can be really special. There is not much you can change in a couple of training days. We need to rally together and keep an eye on their superstars and grind it out.
"We are playing away which is a challenge but we will take a lot of confidence from last week, but we'll be looking at the same things.
"How do we improve with the ball? How can we be more effective? If we have that frame of mind regardless who we are playing against we will be in a good position."