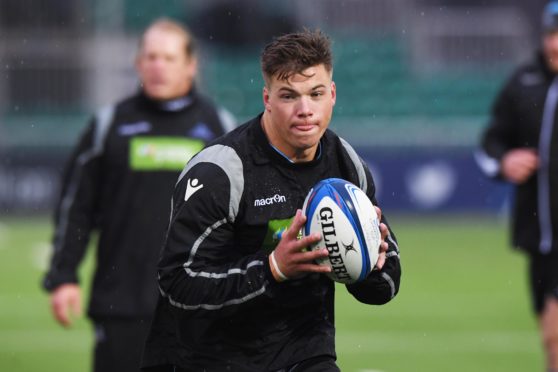 Huw Jones is playing to his 2018 form again – because he's getting the chance to play, he thinks.
The centre made a huge impact in his first two seasons for Scotland, scoring ten tries in a season and a half, getting notice as a possible British Lion until injury ruled him out of that summer.
However since moving from Western Province to Glasgow, Jones' opportunities dried up, he got open criticism about his defensive abilities, lost his Scotland place and didn't even make the Rugby World Cup squad for Japan.
Two months later Jones is back in the picture, scoring tries and making breaks for Glasgow, and he believes it's all down to actually playing.
"Guys that play week in week out, you say 'Oh, he's massively consistent – he's playing every week', but you can't be consistent if you're not playing every week," he said.
"This has been the first time I've had three starts in a row for Glasgow. As a player it's hard to just come in for one week and play well and then you're out the next – you can't get any momentum.
"But once you get a couple of games in a row you can sort of build on them."
It's an issue Jones has had with Warriors' coach Dave Rennie, and the pair have spoken on several occasions about it.
"I saw someone tweet something the other day, players will say 'Play me and I'll show you' and coaches will say 'Show me and I'll play you'," he said.
"It's tough to get out of that when you're not playing, but when you are playing you want to stay there as long as you can.
"Dave tells me what they want me to work on and I try as hard as I can. I think at the beginning we obviously disagreed. I've said to him that I just want to be playing, and he obviously understands that it's coming from the right place."
He has thought about moving elsewhere, but dismissed it.
"It's been a tough year, I've had a couple of injuries, and non-selection," he admitted. "I think at times I've thought maybe I'm in the wrong place.
"But it's a fleeting thought. When you get dropped, five minutes afterwards you're sulking about it, but you have to get on with your job. You've got to help the guys that are playing on the weekend.
"I enjoy the guys that I'm playing with, I like the environment at Glasgow, but a lot of (staying) is proving people wrong.
"I don't think I've ever been massively out of form – just not playing. You could say that's the same thing, but in my head you can only be out of form if you're playing badly, not if you're not playing."
Jones has played enough now that – even though he hasn't spoken to Gregor Townsend since the World Cup training camp – he comes under the load management protocols.
"I don't know what the protocol is – I think it's four or five games," he said. "But I think if I get to that point I'll be asking not to rest, because I don't really need it.
"I've had plenty rest. I want to be playing as much as I can to give myself the best chance of getting back into that (national) squad."