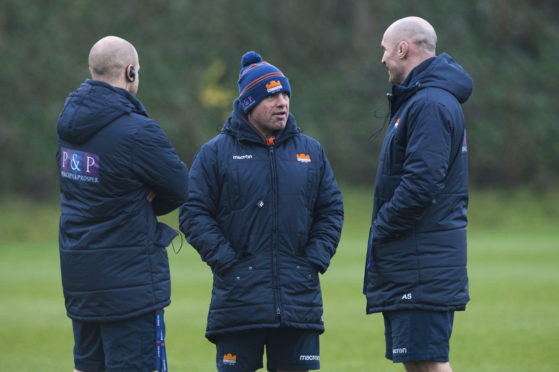 Past performance makes Richard Cockerill think that home quarter-finals in Europe are not quite all they're cracked up to be, even if it's the target this week in Bordeaux for Edinburgh.
The winner of the game between the capital side and Bordeaux-Begles on Saturday will have a clear track on a home quarter-final from their pool, while the loser will still probably make the last eight but have to travel for their quarter-final.
And while Edinburgh want to play on two fronts if possible, there are other factors at play in the head coach's mind, not least of which is the last three European quarter-finals Edinburgh have played at Murrayfield.
"I think this is a must-win if you want to finish top of the pool," he said. "I think five points from these two games (winless and pointless Agen are the final game) will qualify us for a quarter-final somewhere.
"A home quarter-final? We've played three in a row at Murrayfield and lost them all. Maybe it's time to go away…I'm hoping we get a quarter-final and go to Leicester. That would be perfect for me."
Edinburgh have indeed lost Challenge Cup quarter-finals to La Rochelle in 2017 – before Cockerill arrived – to Cardiff in 2018, and then last year's Heineken Champions quarter against Munster, all on their home patch.
Seriously, Cockerill has got a tricky balance anyway between success in this competition and the aim to get a PRO14 play-off place and get back in the main event next season.
"I just think you've got to pick your fights carefully," he said. "There will be changes to the team and there will be guys in this group who get opportunities who wouldn't potentially necessarily be your first picks.
"But when they've had it before they've taken it, and they've got to stand up and do that this weekend. Notwithstanding, we'll still pick a very strong team and I expect us to perform, be good and go there to compete and get as many points as we can.
"We're top of our (PRO14) conference after ten rounds, which means sod all doesn't it? We'll just try and go as far in both as we can. I think it's very dangerous to say we'll prioritise one over another because you could easily fall on your backside in both."
It's not just Edinburgh that's going to concern his players, he added.
"A lot of the Test guys have played World Cup, there's a tough Six Nations coming starting with Ireland away, then England here at Murrayfield," he said.
"I've got to make sure there's still some gas in their tanks when they come back to us and, hopefully, we've done a good enough job through the Six Nations period that we're still cemented in our position in the PRO14 and we can kick on again."
And events in France suggest that the draw with OBB at Murrayfield in the first meeting of the clubs – a game Edinburgh probably should have won – was a better  result than it might have seemed at the time.
"I want us to be quarter-finals in the Challenge Cup but Bordeaux have been the form team in France, a really hard competition to play in and they've been consistent," he continued. "They've played 13, won ten, lost two and drawn one.
"We probably should have beaten them here, we had opportunities and let that slip. But that probably shows what a good performance the home game was.
"We've since seen in the year what a good side Bordeaux. Suddenly, that 16-16 looks a good result.
"I don't think we go over there and take them on overly physical, that wouldn't be smart. You have to front up and match them but we don't want to get into an arm wrestle that suits them more than it does us."