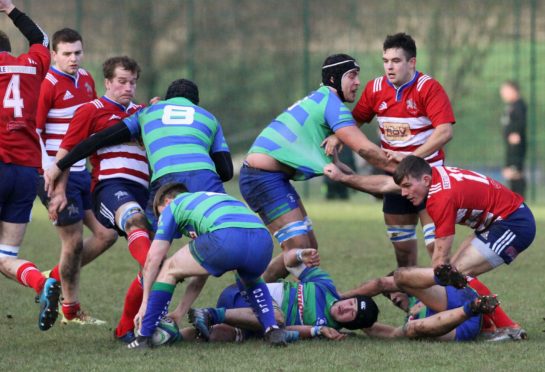 Nearly half of Scottish Rugby's Club Hardship Fund for the coronavirus outbreak has already been applied for, but Murrayfield will increase the £500,000 available if need be.
Scottish Rugby will do "whatever it takes" to keep supporting clubs struggling because the 2019-20 season ground to a halt – and was eventually abandoned as null and void – in March, says Scottish Rugby's director of the domestic game, Sheila Begbie.
She revealed that 27 clubs of a total of 146 had applied for a total of over £200,000, with the majority of applications relating to retaining staff.
"Clubs are looking to both the CHF and the government's own job-retention scheme for staff but there are others looking for support for paying utlility bills, and some for ground maintenance," she said.
The benchmark amount a club can apply for is £5000, but that is flexible, added Begbie, and one club had applied for an award of £14,000.
"One of the main pretexts of us starting the Club Hardship Fund was because we were quite clear that we didn't want any of the clubs to go to the wall as the result of Covid-19," she added. "At the moment we don't know of any clubs that are potentially going to go to the wall, and we hope that doesn't happen.
"We will review the CHF at the end of June, but we will do whatever it takes in terms of supporting clubs. If this were to go on and £5,000 each is not enough for clubs, we will review it and look at what we have to do."
Applications for the first round of the CHF will close on April 30, with the money being released in June, but there are many other issues relating to the lockdown for clubs to address.
"We've had a number of clubs who wrote to us to say, 'good idea, but we are pretty sustainable and we're okay at the moment', which is encouraging," she said.
"It has had an impact on the club game and, unfortunately, there have been some deaths (of members) within clubs.
"Because the club houses haven't been used there is a potential for something like legionnaires disease to develop, and we want to be able to help clubs cope with that if necessary.
"But some clubs are doing fantastic work in their communities: delivering parcels to old people, training sessions in the back garden, using kids to deliver webinars on coaching. There has been a lot of creativity."
The domestic game department at Murrayfield surveyed all member clubs about the incomplete 2019-20 season and over half of over 100 who responded wanted it declared null and void, she said.
"Our preference would have been to complete the season , but when the impact of Covid 19 became quite apparent we recognised that it wasn't going to be possible," said Begbie.
"We went through a consultation with the clubs, 108 out of 146 engaged in that and by far the biggest percentage of people in the club game wanted the season to be null and void.
"Of course we knew that whatever decisions were made they would impact on somebody. I know that Biggar and Dalkeith (both of whom had won promotion) appealed the process and both clubs are speaking to other clubs and seeking a different resolution.
"If something comes in we will look at it, but at the moment we have not heard anything from either club."