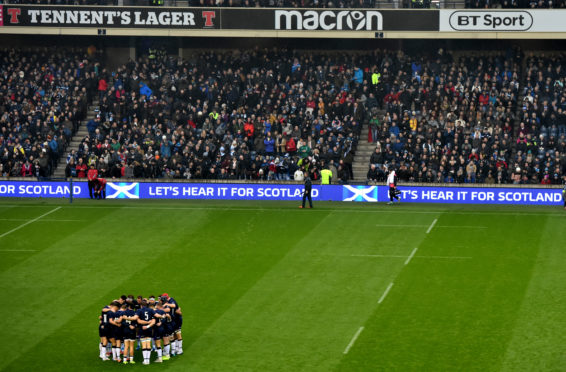 Scottish Rugby are trying to plot a way back to playing after the coronavirus shutdown that will include finishing the Six Nations and the Guinness PRO14 but discussions are fluid and the whole situation is "enormously challenging", says chief operating officer Dominic Mackay.
Mackay is heading Scottish Rugby's Threat Management Group which has met "pretty much every day since January" and was the game's representative at a meeting of sports bodies with Sports Minister Joe FitzPatrick on Tuesday, where tentative steps towards returning major sports were discussed.
Scottish Rugby has set out a five-step plan for their pro players to return to training once permitted, but an end to the government furlough scheme before revenue raising games can be played again could put huge strain on the organisation.
Support for the club game will continue and financial backing for clubs is ring-fenced, he continued, but there were vastly differing concerns for the elite side and grassroots.
"Like many organisations, we are trying to grapple with the huge challenge affecting the whole country," he said. "(SRU chief executive) Mark Dodson is on record as talking around the autumn tests having a financial challenge to the organisation, if they don't go ahead, of around £12 million.
"That was some time ago when that figure was referenced. It would be fair to say that every day that passes the challenge affecting ourselves becomes ever greater.
"I was asked yesterday by the Minister what it means for Scottish rugby financially and it is a significant challenge. We've got an enormous fight on our hands, as all sports do just now.
"Our income is generated through events which produce revenues from television, sponsors and spectators. Without events, which are the lifeblood of professional sports, you have a real challenge.
"Our reflection on that is that we are all in this together as a country and it is beholden on sport to play a role in trying to support the country in the various ways we have done over the past weeks and months.
"When it is right and proper we can begin to look at the small steps that sport collectively can introduce to get sport moving again. We all wanted to move (forward), but we want to do it in a way that is respectful for the needs of the country."
In his presentation to the sports minister, Mackay detailed a plan of "phased introduction to training, initially for players."
"What we'd want to do when it's appropriate is: get individual players training at home; then individual players training at BT Murrayfield; then a big group of players training at BT Murrayfield; and then in due course those players being able to play and to train in a contact environment," he said.
"The next level up then is (Glasgow and Edinburgh) potentially playing a game against each other. But that could be some way off."
The process would take "eight to ten weeks before our players are back up to the physical condition they would expect to be in before they could play a competitive match," he continued.
"We're perhaps not the same as other sports that are desperate to start immediately, and we recognise that our players need time to do a pre-season, and I think (SRU medical officer) James Robson spoke about that before."
In terms of the rugby left unplayed from the 2019/20 season, the intention was to complete at least some of it if possible, he added.
"We're still looking at scenarios which might find some way of potentially finishing the PRO14 season if restrictions allow, later in the back end of the summer, beginning of autumn, but that would definitely be a curtailed end," he added.
"The PRO14 will come back to us with a paper looking at what might be possible, but that's entirely dependent on the various restrictions in the respective territories.
"Of course we're looking at ways to reschedule those Six Nations games and do that later in the year if that's at all possible, around October/November time. But it's not an easy solve, of course, because we have two rounds of the Six Nations and we've also got some other Under 20 games to be managed as well.
"No-one wants to make decisions, entirely understandably, as we have to take guidance from our respective governments."
The prospect of a home and away Six Nations next season is a live one, he admitted.
"The November series includes teams from the Southern Hemisphere, and it just may not be practical for those teams to travel," he said. "We've been thinking about alternative scenarios in respect of those autumn test windows.
"Until such time as we're told otherwise, we expect to have New Zealand, Argentina and Japan here in November. But it would be wrong of us not to give consideration to other options, and that's what we're doing just now."