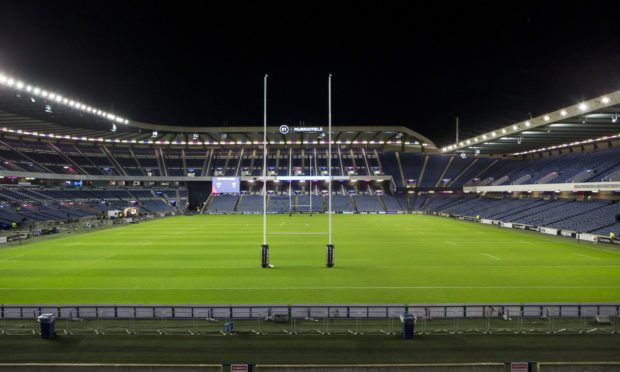 The value of sport and rugby to the general British and Scottish economy will be "respectfully" brought up when Scottish Rugby seek to extend central support as they come out of the coronavirus pandemic, says Murrayfield's Dominic Mackay.
In early discussions with the Scottish Government plotting a way back to re-starting the sport at both elite and grassroots level, the indications that the government's furlough scheme might be wound up in July might prove alarming for Scottish Rugby, given they have little prospect of revenue-raising games before October and hundreds of staff – including all their contracted players – on the scheme.
Rugby League has already received a £16m crisis loan from central government and Scottish Rugby are hoping for similar backing, said Mackay, the chief operating officer at Murrayfield.
"We're really grateful to government for having that scheme and like many sports organisations across the UK, we've have utilised that important resource because of these unique and challenging times we are all in just now," said Mackay.
"From a sports sense, we would welcome that being extended – absolutely. If I could just give an example of our players requiring a number of weeks to be conditioned to train, and that could be a real challenge.
"We are speaking at the moment to London in respect to our views on the furlough scheme, and we're obviously having conversations with the Scottish Government as well, but we recognise that there is a big draw on the public finances.
"But from a business perspective rugby has a role to play when it restarts to contribute back into the economy. Last year, we had an independent study commissioned by YouGov which looked at the events we had at BT Murrayfield, Scotstoun and Celtic Park, and we generated £152 million for the Scottish economy.
"We can we want to play a part in helping restarting the economy, but we also need to do that in a respectful way."
This week's meeting of football, rugby and horse racing representatives with Scottish Government sports minister Joe FitzPatrick was "probably just the first of a number", added Mackay.
"The importance of sport to the nation, particularly the big two sports, rugby and football, was recognised by government," he said. "And we will continue to stress that because it's going to have an important role to play at a number of levels, both in terms of driving back into the economy, but also in terms of mental health.
"That was something we spoke about, that sport has the ability to positively affect the mental health of the nation."
Scottish Rugby also wants to put the BT Murrayfield "campus" in the forefront as a location for a "sports bubble" where athletes of many sports can prepare safely for a return to competition, said Mackay.
"We saw the report that Hearts and Hibs want to play their Scottish Cup semi-final here and we've got a proud record of hosting football games, and if there were another opportunity we'd be very happy to do that," he said.
"One of the things we spoke to the government about yesterday was strategic locations across Scotland earmarked as locations for sport resuming, and we were making the point that Murrayfield lends itself beautifully to that because we have training facilities, we have a gym and we have the stadium itself to host games.
"The whole environment and campus lends itself to being a sporting bubble, and if it can be used by other sports, we'd be delighted to do that because collaboration is the name of the game at the moment."
Elite rugby and grassroots have "different challenges" in restarting, but Mackay said that Scottish Rugby are clear "you can't have one without the other".
"There may be different times that different elements of sport could return," he said. "But it's really important to us as a governing body to make sure we communicate with our grassroots clubs and give them as much advice as we can, and we've really ramped that up over the last number of weeks.
"We established the Club Hardship Fund quite early on, worth half a million pounds, and I'm delighted to say that has been well received by our clubs. We've had around 80 applications, 21 on the last day of applications.
"We also brought forward around a million pounds of payment to clubs.  So we've tried to react with the means that we have at our disposal, and we'll work with government as much as we can to try and get rugby restarted at all levels when it's right and when it's possible."