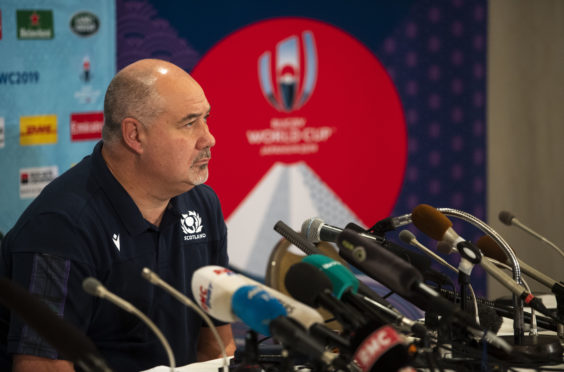 Rugby's new world order will be "irresistible" to potential commercial partners and sponsors, as a new form of co-operation moves towards an integrated worldwide international schedule, believes Scottish Rugby chief executive Mark Dodson.
Dodson says that all the major players in world rugby were moving in the same direction in response to the coronavirus crisis and while he was cautious, he believed that "a massive change in the game" is coming.
"I've been in so many of these conversations (with other unions) over the last ten years and it's very easy to see stuff go off the table," he said. "This time is different.
"There is a collective view, there seems to be more ambition and there seems to be more patience with each other.
"There's so many components involved, but I think there will be a massive change in the game, and we're so close to establishing a proper conversation."
Among the matters being discussed are a true global calendar of games, with the possibility that even the sacred Six Nations will shift from the traditional slot in February-March to later in the spring, while the Nations League concept of annual competition – which appeared dead in the water a year ago – now looks likely to happen in some form.
Equity investors CVC have recently completed a multi-million deal with the PRO14 league for a one-fifth share in the competition featuring teams from Scotland, Ireland Wales, Italy and South Africa, and the discussions about them making a similar deal with the Six Nations were still live, said Dodson.
"CVC have never walked away from the notion of a Six Nations deal, and we're still in dialogue with them," said Dodson. "They understand we got a long way down the road in terms of PRO14 and the Six Nations (before the coronavirus lockdown) and think those talks will continue.
"A Nations League is going to form a part of this global season. The proposed Oct-Nov window will allow some sort of competition to take place, whether that's a Nations Cup or Nations tournament, I think and the game will be all the better for it.
"You'll find the games will be meaningful, be relevant, and I think you'll find they'll also be attractive in terms of travel for the players, less travel.
"I think they'll also play well for commercial opportunities that will be fairly irresistible, if we all stay calm and keep moving forward."
The proposed CVC-Six Nations deal was one of the reasons the original plans for a Nations League floundered, but Dodson thinks they can co-exist now.
"From where I sit, one of things that would make it more attractive to investors is having more meaningful games at every time of year," he said. "I'd suggest it's more attractive now.
The unions recognised that no global calendar was going to work unless the English and French clubs were on board, he added.
"It's most important that we include the clubs in this conversation," he went on. "We can't do a global season without making sure that the English and the French clubs find it something they can live with. The unions have to be happy and the leagues as well."
On the domestic front, the chief executive confirmed that all 82 applicants to Scottish Rugby's Club Hardship Fund would get some money.
"The response has been excellent," he said. "People are generally delighted with the responses they've got. We will be making an announcement next week about what goes where and what the values were.
"The biggest problem we've got is that there is no time axis on this graph. This could last two months, three months, four months, longer. We don't know how hardship will grow through that process.
"Most of the clubs have taken the view of trying to mothball themselves until they've actually got more information. Other clubs are keener to get started and feel they want to as soon as possible.
"As it stands at the moment, there is no provision within the advice from Scottish rugby regarding when we can start to resume rugby. Our intention is to do whatever we can as soon as we can and as safely as we can.
"The clubs have the same problem as us: they have expenditure, but no income. We have tried to help them with expenditure through accelerated payments and the club hardship fund so they can keep the lights on and maintain the fabric of the clubs involved.
"We all have the same problem and we all share the pain so we will be working very hard to try to resume as soon as it is practical and safe to do so."