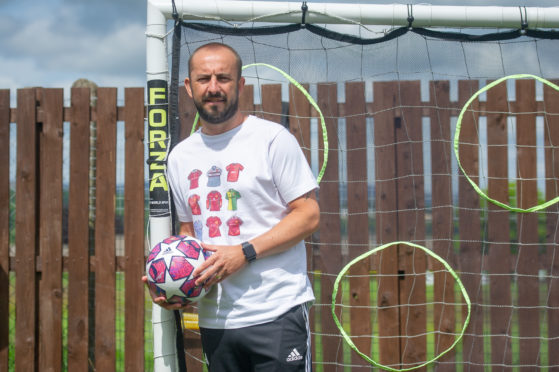 The name Steve Archibald keeps popping up through the footballing life of Paul Clark.
The Aberdeen, Tottenham Hotspur and Barcelona legend tried to sign him for East Fife as a schoolboy, was his agent for a while and then his manager at Airdrie.
After a career of great promise took Dundonian, Clark, out of the full-time game, into the juniors, into scouting and then into a hospital bed fighting for his life in the early days of the coronavirus pandemic, Archibald was one of the many football people who reached out to make sure he was on the mend.
And when the day comes that the 40-year-old can start watching grassroots football again in his current role of talent-spotter in the Tayside and Fife region for Aberdeen, his Pittodrie line manager has set the bar nice and high.
If you could just find us the next Steve Archibald, please. Easy.
"Jim Fraser (the head of academy recruitment at Aberdeen) sent me a wee message when he was doing his homework on my background before he took me on," said Clark.
"And he said that if you find another Steve Archibald for Aberdeen, you've done your work!"
Discovering the next Steve Archibald, or the next anybody for that matter, was the furthest thing from the father-of-two's mind when he became one of the first young and healthy adults in the country to be struck down by Covid-19.
Rushed to Ninewells in late March after a fever deteriorated into serious breathing problems, the maintenance worker, whose day job is in that very hospital, was now the "guinea pig" for doctors still getting to grips with a virus that would go on to claim the lives of tens of thousands and counting across Britain.
"I spoke to the consultants and because I was one of the first patients in the country to get it as bad I did, certainly in Tayside, it was new to everyone," Clark reflected.
"I know a lot of the nurses and doctors from working there so I was asking a lot of questions. They were saying: 'Paul, you're like a guinea pig to us'. They were having to speak to doctors in France and Germany to get information. It was quite scary. They weren't expecting fit people of my age to be affected as severely as I was."
As a result of being treated in the intensive care unit and losing over two stones of muscle weight, Clark is still only midway through a recuperation process predicted to last six months. Just getting out for a walk in the Dundee air was an achievement for a while.
There won't be any youth football to watch for some time yet but, when it does return, Clark will be on the same patch as when he was a Dundee United scout for five years.
The overhaul of the academy set-up at Tannadice when new owners bought the club and Andy Goldie was appointed led to his departure, but he doesn't harbour any grudges.
"It's a long story but the new people basically wanted their own staff," Clark explained.
"I didn't feel like part of their team and probably left it longer than I should have to leave.
"I've not got a problem with things changing. I've been in football all my days so I know how it works. People move on.
"I put so much work into the academy there and getting players into the club who will hopefully go on to have good careers. The boys are about 13 and 14 just now but I'm pretty confident a good few will come through. None of us have a crystal ball, though."
Having an eye to identify special talent is the same whatever tracksuit you might be wearing but there are subtle differences between Clark's job description with Aberdeen than with United.
"Aberdeen did a lot of background checks on me when I left United," he said. "They saw the quality of player I was bringing into United and they've been happy for me to do the same thing at Aberdeen.
"But it's probably a bit more about quality than quantity now. At Aberdeen they've already got the whole of their own city, where they've got 15 scouts, maybe even more. They've got a scout in Angus so I'm just covering Dundee, dipping into Perthshire and Fife if I can.
"It's a change of mindset – there are players who might have been good enough for United when I was doing that job but won't be good enough for Aberdeen now. But there is definitely talent out there in this part of the country, that's for sure."
Clark the scout doesn't have to take long to think about what he would say to Clark the young player who was making a name for himself at Dundee a couple of decades and more ago – and earning national recognition. His "learn from where I went wrong" wisdom is already getting passed on to his two sons.
"I tell my kids how important it is to be focused," he said. "I was the exact opposite. I was young and naïve. I'd have worked harder off the field if I had my time again. I thought I was a footballer at 20 when really, I wasn't.
"I couldn't wait to finish training and wander around the Wellgate – stupid things like that. I could have been going away in the afternoon and working on my game.
"My youngest boy has a wee chance. He's 10 and has all the skills and tricks. I'm telling him: 'Don't do what I did'."
There were mitigating circumstances for Clark as a teenage Dundee left winger hoping to step up from the reserve side to the big one. He lost his father to cancer at a crucial stage of his career development and the Bonetti-led Dark Blues were starting to prioritise big name foreign imports over home-grown boys.
"I was in the last year of my contract with Dundee," he recalled. "I was coming up for 20.
"Between January to May is an important few months obviously. I was doing OK, playing reserve football. But my dad got diagnosed with cancer in the January and he went downhill very quickly. He died in the May. That was a tough time for me.
"So for the last few months of my contract I didn't play much football. Jocky Scott, Ray Farningham and Jimmy Bone were telling me that football was irrelevant.
"Then the Italians came in during the summer. The commercial manager told me it didn't look like I was going to get offered a new contract but there was an opportunity to come back in pre-season to see if I could earn a deal and impress the Italians.
"But after losing my dad, I decided I needed a fresh start somewhere else.
"Steve Archibald had tried to sign me as a 15-year-old for East Fife. I was playing for Scotland. He was going to put me in the first team even at that age.
"He had an agency business but because he was manager at Airdrie he couldn't be my direct agent as well.
"One of my close pals, John Elliot, and me both went to Airdrie and stayed in a tiny wee room in a bed and breakfast in Chapelhall. It was the worst thing I ever did.
"My mum was really struggling back home and I sort of lost interest in football at that point. My heart wasn't in it.
"I left, came home and started playing down the leagues and in the juniors. I went on trial in Ireland for a couple of months but I was finished in senior football by 23 or 24.
"It is a regret."
The Dundee football family is a tight one and Clark was inundated with messages of support from people in it when news got out of his coronavirus scare.
"I was blown away by all the messages," he said.
"I had hundreds and hundreds of messages and notifications on WhatsApp.
"Guys like Gavin Rae and Lee Mair are my close pals from football. Charlie Adam got in touch as well. I knew him and his dad for years.
"(Dundee head of academy) Stephen Wright sent me a message. He's a really good guy – a humble man.
"I got one off young Finlay Robertson as well. He's only 17-years-old but took the time to do that. He's a good kid who has his head on his shoulders.
"I wasn't expecting anything from the likes of (Aberdeen owner) Dave Cormack so it was brilliant that he took the time to message me. (Assistant manager) Tony Docherty gave me a call too.
"It was a bit overwhelming. I can't thank them enough. The admin staff at Aberdeen were on the phone to my wife every day to ask how I was getting on.
"Steve (Archibald) sent a wee message on Twitter. He's a very private man. He doesn't Tweet that much. It was nice of him to do that."
And maybe, if Clark asks nicely, now that he's working for the Pittodrie great's old club, Steve Archibald might tell him what the next Steve Archibald will look like.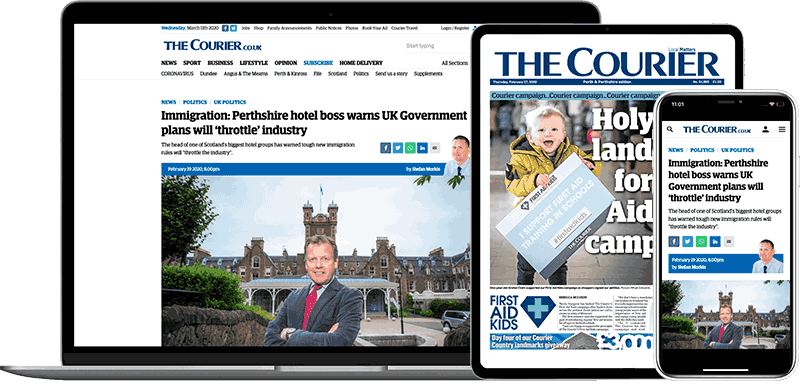 Support The Courier today.
The Courier is committed to delivering quality content to our communities and right now that's more important than ever — which is why our key content is free. However, you can support us and access premium content by subscribing to The Courier from just £5.99 a month. Because Local Matters.
Subscribe