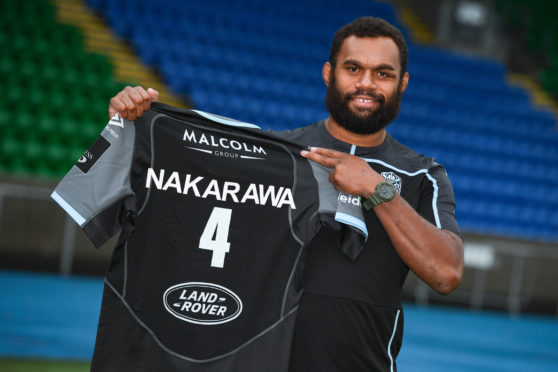 Leone Nakarawa is staying with Glasgow Warriors for at least one more season, the former European Player of the Year agreeing a year-long extension to the deal he signed to return to Scotstoun in January.
The 32-year-old, 62-times-capped Fijian second row was controversially sacked by Racing 92 late last year for failing to return from the Rugby World Cup in the time agreed as part of his contract with the French club.
He had joined Racing from Glasgow, where in three years he had become a huge favourite with the Scotstoun support and one of the premier second rows in world rugby. During that time he was named in the Rugby World Cup 2015 team of the tournament and was part of the Fiji sevens team that won gold at the Rio Olympics in 2016.
After being ousted at Racing Nakarawa returned to Glasgow on a short-term deal until the end of the 2019-20 season, but made just two appearances before a knee injury and the coronavirus lockdown cut the season short.
The player described returning to his first professional club was "like coming home" as he retained close friendship with many of his former team-mates who remained with the Warriors.
Nakarawa returned to Fiji to attend family matters – including the impending birth of his first child – after the sport locked down but was expected to be courted by a number of leading English Premiership clubs at the end of his short-term contract.
However it appears a deal for him to stay at least another year was secured before he left, and it's a huge boost for Warriors fans who have been expectantly waiting for signings for the forthcoming re-start of rugby in August and the new season.
Nakarawa's athleticism and penchance for the off-load has become legend – he still is the leading off-loader in the history of the PRO14 even though he left the league to play in France four years ago. He had ten in just two league appearances last season, enough to lie in the top five of the stat list.
Glasgow's new head coach Danny Wilson described Nakarawa as a "world-class rugby player and a really exciting addition to Warriors squad for next season".
"His reputation as an attacking threat goes before him and as a coach I know from experience how difficult he is to prepare against," added Wilson.
"Leone offers expertise and experience in a variety of positions in the pack and I know how popular he is with players and supporters. I'm looking forward to working with him as we move forward into the new season and conclude the 2019/20 season."
Nakarawa will remain in Fiji until August doing his own training before returning for the re-start at the end of that month.