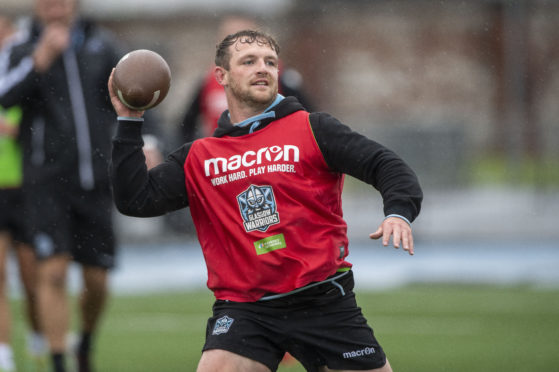 Nick Grigg says he was gunning to cover at full-back in Saturday's re-start game against Edinburgh at Murrayfield – but he'll stay in the centre and Huw Jones will fill the role.
Jones, who has won 25 caps and scored 10 tries for Scotland all at centre, will start at full-back on Saturday, a position he's played only fleetingly in his career and not at all since he came the Warriors.
Full-back is a huge hole for the Warriors after the retirement of Ruaridh Jackson, although they sought to plug it at least partially with the announcement yesterday that Glenn Bryce has extended terms for the remainder of 2020.
It seems likely that Grigg will line-up alongside Sam Johnson in the midfield, but the dynamic centre was up for a change if new head coach Danny Wilson wanted.
"I thought it was draw straws, and I was gunning for the spot," joked Grigg. "Danny had the final say.
"I think (Jones) will go well. He has been training bloody well. He is an all-round skilful guy and I think he will be able to fit into that mould that he needs to at 15.
"I don't know his experience at full-back but he will fit well in that position, he'll try his hardest and i think he will go well."
Wilson has introduced some things into the Warriors gameplan, but nothing too complex in the brief time he's had with the squad, said Grigg.
"I obviously can't go into too much detail but a good thing has been the simplicity we have had in our training," he said. "We don't want to over-complicate things due to the short period of time we had to prepare or for things to be too chaotic on the field.
"We have clarity in our minds what we have to do on the pitch and I think we will get some good performances."
Grigg has enjoyed the long break for lockdown – "good for the body, not so good for the hips" – but he feels he has to restate his case as a potential Scotland player now.
"I'm sure Gregor (Townsend) and the Scotland coaches are going to be keeping a close eye on the next couple of games as a bit of trial for those Scotland internationals at the end of the year," he said.
"There will definitely be people feeling that they are fighting for positions, especially myself because I feel I have a point to prove.
"I feel like I was going well two Six Nations' ago, I was getting a fair bit of game time and my confidence was building.
"Then leading up to the World Cup I had ankle surgery and it is my fault that I wasn't able to push it as much as I wanted to in order to get in that squad, so I missed out on that.
"Then I also missed out on the Six Nations this year, so I just want to get back into that environment and show what I've got."
He and his team-mates have had "that extra bit of biffo" in training and there's a fair bit of frustration to take out physically, he thinks.
"There has been a real energy that I've felt at training leading up to this game, even when we are playing each other in a full contact session," he said. "And we know that Edinburgh are going to bring just as much energy so it is going to be a big match on Saturday.
"Since there is no crowd we won't have the same sort of atmosphere to feed your adrenalin, but on the flip-side, I guess, you'll be able to hear yourself talk and communicate a little better with the players around you, so that might help with the accuracy of the game.
"It will be interesting to see how accurate the boys will be after so many months off. We know that without the crowds it is going to be tough, but we'll just have to look to each other to generate that extra push."