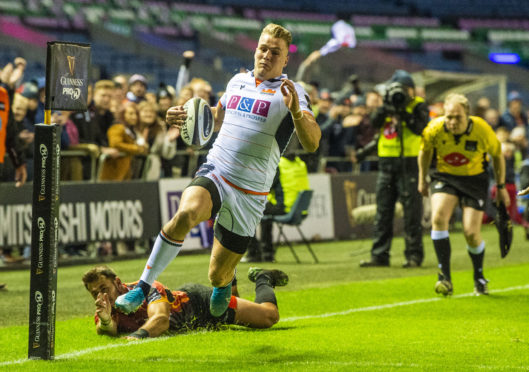 Edinburgh's Guinness PRO14 game against Munster at Thomond Park on Saturday is in doubt after the Irish province suspended training until Thursday due to a positive Covid-19 test.
A "senior player" who did not travel with the Irish province's squad to last weekend's game against Scarlets in Wales has tested positive and six other players have been identified as close contacts.
It's another example of the unexpected difficulties of playing through a pandemic although Edinburgh head coach Richard Cockerill will carry on as if nothing is happening.
"Our medics are talking to Munster and the PRO14, and that's not for me to get involved in, I've got enough to deal with," he said.
"From a rugby point of view, myself and Johann (van Graan) are just trying to get teams ready to go out to play and we don't need to get involved in these conversations. We'll prepare our teams and someone will tell me later in the week whether we can play or not."
Edinburgh are likely to be pared to the bone in personnel once the international windows starts next week, and Cockerill added that "19 positive tests and I reckon we won't be playing because there'll be nobody left".
"We're going to have to navigate our way through it as best we can. We've just got to attack it full on and roll with the punches. It's going to be a very stop-start season by the looks of it."
Cockerill is also having to regroup his squad after last week's dispiriting loss to Ospreys at Murrayfield, their fourth defeat in a row.
"Off the back of that we now have to go to Thomond Park and get points off Munster, we don't make things easy for ourselves, do we?" he added.
Cockerill felt that Ospreys senior men, Alun Wyn Jones and Justin Tipuric, took responsibility for their game in a way his senior players didn't.
"My experience of working here and with other teams is that the Scottish guys are quieter and a bit more subdued," he said. "They're good guys and they work hard but they're not natural, overt personalities or leaders.
"So we've got to keep working on that. They've got the knowledge. We've just got to get it out of them in the key bits to manage certain situations.
"We've got to get back on the training field and realise it's just one game. I have to coach them better and get them better, because we've got eight weeks coming up without our test guys, whatever that looks like.
"There are some good age grade lads in our group who will get opportunities and they're going to get the chance to play. The next eight weeks is going to tough for all sorts of reasons but if we go and win at Thomond at the weekend it'll turn the momentum, and if we win the next seven or eight games without most of our team, then the whole world looks different."
Charlie Shiel, Luke Crosbie, Blair Kinghorn and Henry Pyrgos will all be missing this week, but Rory Sutherland, Duhan van der Merwe and Nic Groom have all returned to training and should be available.