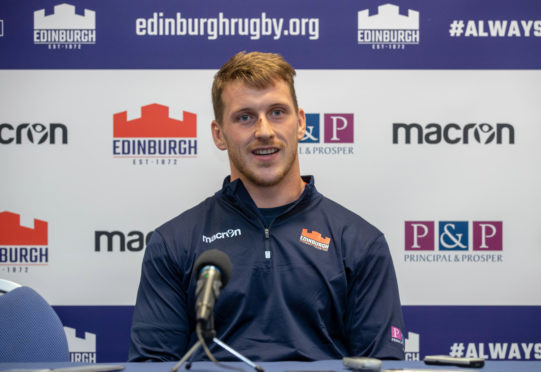 Mark Bennett is actually a little disappointed that there will only be a handful of fans at Munster's Thomond Park this weekend, even if might help take a little off the Irish province's big home advantage.
The Edinburgh centre has played a few games in Limerick down the years and it's one of his favourite venues, even though the atmosphere can be oppressive for visiting teams.
"Whenever you play Munster away the crowd is a huge, huge part of the game," he said ahead of Saturday's PRO14 clash.
"It's a hard place to go and play in, I can tell you that. I played there for Glasgow the weekend after (Anthony) Axel Foley had passed away and I've never been in an atmosphere like it.
"I also played there in a quarter-final in the PRO14 a couple of years ago, it's is a tough place – it is pretty unforgiving. It's pretty intense.
"I think that from our point of view it [the lack of a crowd] is probably a good thing. But at the same time you really love and relish playing in that sort of atmosphere.
"It's a big part of the game, isn't it? That's what you enjoy."
Edinburgh have to bounce back after last week's loss to Ospreys, marking the first time the club have lost four in a row under Richard Cockerill, but Bennett says there's no reason for panic.
"I don't see it as an issue," he said. "We have lost against four very good sides and all of them were there or thereabouts. If we had been a little bit smarter at times we could probably have won three of the four, although last weekend was a poor performance by us.
"I still think we are in a good spot. We got into a semi and a quarter last season and we deserved to be there. We will go out this weekend and do all we can to show that we are still the same side and all this will be forgotten.
Bennett seems to have dropped out of the Scotland plans but even if he's not in Gregor Townsend's squad announced early next week, he's going to stick to what he knows.
"I am confident if I keep doing that, chances will come," he said. "I have always been known as an attacking player and that is how I like to play my game.
"But I feel like the last few years that Calum McCrae has done a great job at Edinburgh with the defensive system but he is also very good at developing players too. My defence has come on leaps and bounds and I do feel I am in a better place than I probably was when I was playing for Scotland.
"Whether I get back, I'll just keep doing what I do and if I get picked, excellent, that is a goal of mine.
"If I don't I will just keep doing what I am doing."