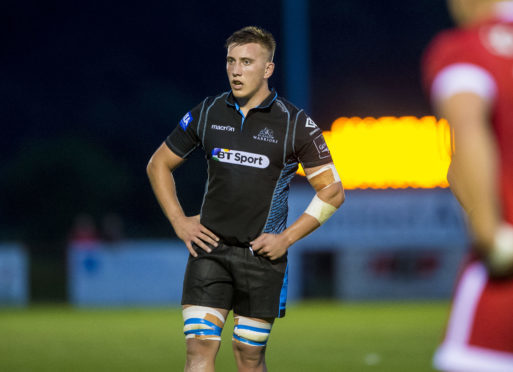 Matt Fagerson feels Kelly Brown's new presence at Glasgow will help lift him to be an international regular and give him a chance at more caps this autumn.
The back rower is still just 22 and learning his craft, but he's come on leaps and bounds in the last two seasons and a similar development path seems to lead to the No 8 shirt for Scotland, which is something of an open race at present.
"Personally, I'm just trying to be as physical as I can," he said. "There's parts of my game that I am looking to improve all the time, and having Kelly Brown in along with Danny as a fresh pair of eyes has really helped with my breakdown work.
"It's a massive part of the game now, so I'm trying to work as much as I can on that and implement it into my game. Hopefully I can keep improving on these little areas and stitch my game up bit by bit, and then hopefully calls will come."
Matt's one start for Scotland at Murrayfield against Fiji a couple of years ago lasted just ten minutes, and he's determined to get another chance this autumn.
"In terms of playing international rugby for Scotland, I just think that while I want to put my best foot forward, it really starts with our game there his weekend.
"If I do play during these Autumn internationals, I want to put my marker down because I don't think I have really managed to do that yet when playing for Scotland. I really want to show what I am about – that what I do for Glasgow I can do on an international stage."
But before he really focuses on Scotland, he's got to help get the Warriors back on track at home for the first time in eight months against Scarlets on Sunday night.
"It will be good to have a game back at home at Scotstoun, we haven't played here for seven or eight months," he said. "It will be different without the supporters obviously because they are a big part of what we do here at Scotstoun, having them and the noise they create is a massive part of the atmosphere.
"It's been strange without fans so far. Obviously, you can't feed off the crowd – normally, when someone makes a big hit the whole crowd react and that does gee the players up a bit.
"But if you are reliant on the crowd then I suppose you're probably in the wrong industry and you shouldn't be playing professional sport. You have to get yourself up with the energy and create your own atmosphere.
"It is weird but we are making do."
The defeat to Connacht was one the Warriors think they should have won, and they're wary of a similarly attacking outfit in Scarlets on Sunday.
"We've got three games under the belt now, and the shock to the system for everyone after no rugby for so long has gone," he said.
"We've put in a lot of work during the short pre-season and the guys are in good shape.  Personally, I've lost quite a bit of weight since coming back in after lockdown, so I'm feeling good, and a lot of the boys are in the same boat."