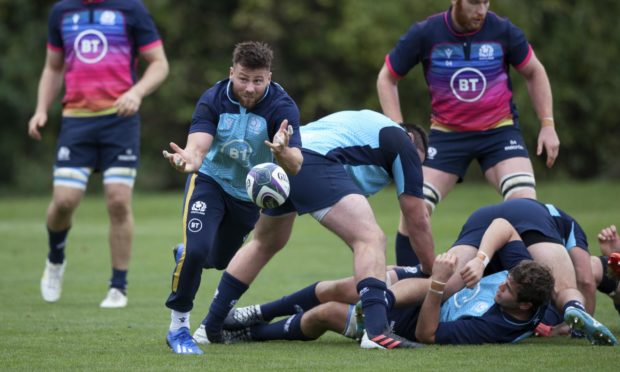 Finn Russell was tired and emotional when he finally rolled back into Scotland camp again on Sunday night, but it was real fatigue and real emotion.
The Scotland stand-off ended his eight-month estrangement from the international squad when he reported to Oriam after two flights in a day while dealing with the disappointment of Racing 92's Heineken Champions' Cup Final defeat at the hands of Exeter.
Russell's former flat mate, closest friend and frequent half-back partner Ali Price was part of the welcoming committee as Russell returned for the first time since he walked out of the camp in January a week before the Six Nations opener against Ireland.
There were certainly no beers at the hotel bar and it was more a milk and cookies kind of evening, agreed Price.
"When he came in I think he spoke to Gregor, and I had a chat with him in the lobby," said the scrum-half. "He was still getting over the loss on Saturday. They went straight back to Paris and then he had to fly back again on Sunday night.
"He was tired because he had had a busy couple of days but he was excited to be back in. He trained today and at the end of the session I told him that the first one was under the belt.
"Everyone's been at their club all summer so it is learning the call sheet and prepping new plays, and Finn is pretty used to that. It's great to see him back and it's great for the squad and for the country as well."
Price was obviously going to defend his friend over the mixed reviews for his Champions' Cup final performance, pointing out that he created tries for Racing.
"People are very quick to pick up on the negatives of a player's performance, but I think Finn assisted both of Zebo's tries and if you look at his performances in the champions cup campaign he is a massive part of why they made it that far," said Price.
"That was a game that could have gone either way at the end. He plays with confidence and he doesn't let mistakes get to him. He wouldn't be half the player he is if he did.
"He is a confident guy and he has won a lot of games for Scotland and Racing because of that. He plays this way naturally, he sees things on the field but other players just don't see.
"You shouldn't put a guy like that into a box; you should let him express himself."
Price is keen to link up with his old friend again on the pitch, but that may not happen this week with the first game of the elongated Autumn campaign against Georgia on Friday and a short training week.
"It has been a long time since we played together but we have had some really fun games together," said Price. "When he came in last night, I realised I haven't actually seen him in the flesh for four months.
"When he takes to the field it will be the first time he has played in a Scotland jersey for coming on a year. That's exciting for him. It has been too long."
Price made his debut against Georgia in Kilmarnock four years ago and had an immediate impact – a quick tap which started a length of the field move finished by Stuart Hogg. 32 caps later, he admits that the lack of fans inside the stadium on Friday will hit home here more than anywhere else.
"It will, especially at Murrayfield," he said. "We've had 17 sell-outs in the last 18 games there and when the bus pulls up and fans are lining the road round to the changing rooms, it is incredibly special.
"It is so different to a club game because it is more of a full-on event – an occasion – so from that point of view it will be very strange.
"But what I have noticed from the club games with empty grounds is that when you are playing the match and focusing on your job, you are very much in the zone, and you don't realise it as much.
"The running out and the anthems will be strange, but when we get down to the games then I'm sure everyone will be focused on that."