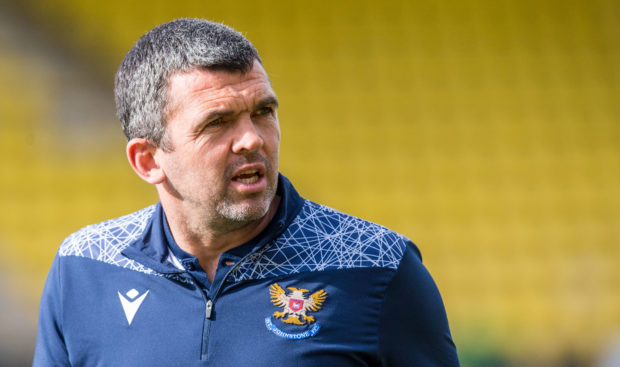 Callum Davidson will be "patient" with Guy Melamed – even if the new St Johnstone striker is a man in a hurry.
The Israeli forward has at last been given the green light to emerge from quarantine and join up with his new team-mates for training at McDiarmid Park.
The fortnight's delay since he signed for Saints has only added to Melamed's determination to hit the ground running with the Perth side but the form of a team that has now found its goal-scoring touch as well as the player's own inactivity will mean Davidson won't be rushing him into Premiership action.
"It's Guy's first day and the main thing is he settles in nicely," said Davidson.
"He'll get to know all the lads this week. He's had a month off now which makes it tougher for him but he's certainly up for the challenge.
"A lot of us have been staying in contact with him over the last couple of weeks to make sure we were looking after him but he's delighted to join us at last.
Take a look at our new signing Guy Melamed in his first training session for Saints!#SJFC pic.twitter.com/BaAovlxDer

— St. Johnstone FC (@StJohnstone) October 19, 2020
"He was always texting me to ask 'when can I come in?' Unfortunately rules are rules and there's nothing we could do to get him with us any quicker.
"For Guy it's all about giving him the best chance to succeed with us. I don't think it's fair to just throw him straight in.
"We need to get him up to speed and be patient. What I do know is he's determined to do well. That's the most important thing."
Even if Melamed had been game-ready he couldn't have expected to start against Dundee United on Saturday given the performance levels of the Saints' front three at Hamilton on Saturday.
It was definitely the most incisive a Perth forward line has been in the Premiership this season and you could also make a strong case that Stevie May, David Wotherspoon and Craig Conway all also produced their best individual displays of the campaign.
"It goes without saying that I was really pleased with Craig, Spoony and Stevie up front," said Davidson.
"It was probably the best our front three has performed as a unit. You can't ask much more than them all scoring the five goals.
"We've got Guy coming in now so we're putting the forward players under pressure.
"You want competition for places in every position. I've got that all over the pitch, including up front.
"I did say to them that if you play well the likelihood is you'll stay in the team."
Sunday afternoon's Spurs v West Ham game was a reminder than even three-goal leads can be wiped out quickly.
Although Saints saw their advantage at Hamilton trimmed from 3-0 to 3-2 and then 4-2 to 4-3 at the day before, it was a credit to the mental strength of the players that panic didn't set in and threaten to unstitch all their good work.
"We needed to react well at the start of the second half after losing those two goals before the break," said Davidson.
"For their first one they got a little bit of luck and then the boy finished well. For the second we could have avoided the free-kick and defended it better.
"But at half-time I told them how well they had played to get themselves 3-0 in front. They all knew what we needed to do in the second half.
"It turned out to be a great game for the neutral but not so great for a manager!
"I thought the pitch was really quick. Some of the goals, you were wondering: 'How did that go in?' Even Spoony's one. It really zipped off the surface past the keeper. It wasn't that hard a strike.
"Sometimes you get games like that for whatever reason.
"What you know with Brian Rice's Hamilton team is that they're always going to have a go. By pushing so many bodies forward they'll get chances."
The Perth boss added: "Obviously I'm delighted to get the win and for the forward players to score all five goals.
"We're starting to put the ball in the back of the net. It's now about making sure we continue that and stay solid at the back.
"We've created a lot of chances in other games but the difference on Saturday was we took a lot of them really well.
"That's the key."
For a team that had gone four league games without hitting the back of the net, scoring five in one afternoon was more than enough to satisfy Davidson. The cherry on the cake was the variety.
"I didn't have a favourite," he said.
"They were all really good in different ways.
"The first two involved the sort of movement we've been working hard on with players coming inside and linking and Mayso making spin runs. We want to score more from set-pieces so it was nice to do that with the third.
"Craig's first goal was an excellent counter-attack goal and his second was a quality free-kick. It was a good mixture."
ANALYSIS: No need to rush Guy Melamed into St Johnstone team as the goals keep flying in