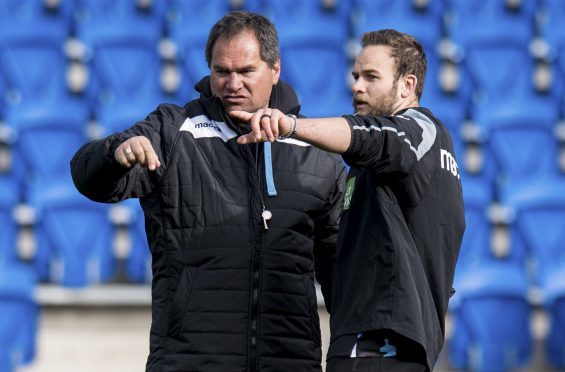 What does it cost to fight a rugby war on two fronts?
If Saracens, the most recent team to have completed the double of domestic league and European Rugby Champions Cup trophies, are the best measurement it takes over £60 million – this being the debt the Hendon-based club have run up in 20 years of professionalism.
That is £10 million more than the turnover for Scottish rugby as a whole last year.
But that's debt raised over a significant period. Perhaps player budgets are a better measurement, even if the Aviva Premiership salary cap is such a damaged concept that it's impossible to arrive at an accurate figure for how much money is paid per club.
Glasgow Warriors, Scotland's sole representative in this season's Champions Cup, had a player budget of £5.1m last year, and Dave Rennie's additions to the squad have probably upped that a little this year, but likely to not much more than £6m.
The smallest player budget in the Top 14, the French premier division, in the 2016-17 season was that of Brive, at £14.7m. The biggest was Toulouse, at £28.2m.
Under Gregor Townsend last year – in fact under Townsend during all of his years at Scotstoun – there seemed to be a clear, if unstated, view that trying to win the league and have success in Europe at the same time was simply not possible.
In their championship run of 2015 and the semi-final loss in 2016, the Warriors failed to get out of their European pool. In one crucial match, against Bath in 2015, they started hooker Fraser Brown in the back row and back Richie Vernon at No 8, so stretched were their resources.
Last year, with a more streamlined squad of stronger first choice players and less strength in depth, it seemed the league was sacrificed to the successful goal of reaching the quarter-finals of the Champions' Cup, where Glasgow were flattened by the might – financial and physical – of eventual champions Saracens.
Are the Warriors, who have started the PRO14 season with six wins from six, aiming at the league rather than Europe this year? Or are they going to have a stab at what many consider impossible on their budget?
Certainly it's hard to imagine a tougher draw than the one Rennie and his augmented squad have been handed. Montpellier will this year probably easily exceed Toulouse's gargantuan player budget, and they've made Vern Cotter, recently departed from Scotland, the best paid rugby coach in the world.
Leinster – on a player budget of about £7-8 million along with Munster and Ulster but still with definite designs on winning on both fronts – have unquestionably been Glasgow's bogey side over the years. Winning at the RDS proved beyond Townsend's best efforts in his years in charge, even if the Irish have a pretty poor record at Scotstoun in return.
Exeter are the English champions, and a rare breed indeed, an Aviva Premiership club who make a profit. Their wage bill is a mere 50% of turnover, and they gave the lie to the idea that you must spend beyond your means for success by winning last year.
Yet Glasgow should have few fears about visiting or hosting any of these teams. The quality of the 15 Rennie can start and – perhaps significantly – the quality of their bench is a match for anything that the others can produce.
The Warriors are just 12 months from beating one of France's richest clubs Racing 92 home and away, and thrashing long-time English giants Leicester a cumulative 85-13 over two legs.
They have lost no significant personnel in the interim, many of their younger players – Adam Ashe, Zander Fagerson, Scott Cummings – have added experience while they have gained Calum Gibbins and Lelia Masaga, plus a major upgrade in strength in depth.
There's a better frontline choice and a much deeper squad than last year, while the impressive Rennie has clearly augmented what he's inherited, specifically a much harder edge around the contact area.
So much so that after the first block of games in the PRO14, the Warriors are just about assured a play-off spot already. Maybe that's the key to battling on two fronts – get the league sorted out quickly and transfer the focus to Europe.