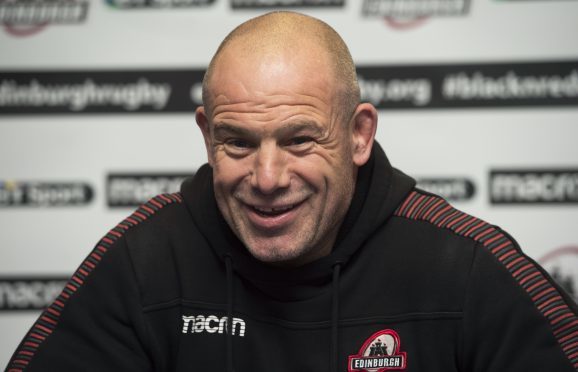 Richard Cockerill admits he doesn't know quite to what to expect from his Edinburgh team as they host the 1872 Cup first leg at BT Murrayfield – but he won't compromise the way he wants them to play.
The head coach has picked an attacking back row putting Fijian Viliame Mata at 6 alongside Cornell du Preez and Hamish Watson, although he's opted not to give Mark Bennett his first game in 10 months against his old club.
For the most part, the head coach just wants a measurement of where his team are in their development.
"I'm looking forward to seeing where Edinburgh's at, because everybody's got a bit of anticipation around the fixture, which is good," he said. "Everybody, us, the media and the public, is waiting to see the strides that we've made – or haven't made. We'll see on Saturday."
Cockerill knows that while Edinburgh are in the midst of a good run and their overall game has improved, they've not been tested as much as they will be on Saturday.
"They're a good side whoever they pick, and we know on paper they've been a better side than us consistently," he said. "I would like to think we've closed the gap. I think the way we've played this year, apart from a couple of games, we've been very good.
"We're developing our game and we're now starting to put the weaker sides around us away relatively comfortably, which is a good sign.
"But we've played Leinster, Scarlets and Cheetahs away and come second – Glasgow is probably by far the best side we've played in the last two months, they're unbeaten in the league, in Europe we're not even in the same competition as them."
Cockerill knows that Edinburgh have competed with the Warriors with a forward-based game before, but the inclusion of the off-loading Fijian in the back row suggests they want to play a more open game.
"If your ambition is to develop your game and win big games then you can't just try to beat them up," he argued. "This is more than a one-off game. We want to develop our game, so we're going to play rugby and take them on.
"If we want to win we have to score tries and to do that we have to play with ball in hand and take risks and take them on. Cornell, Hamish and Billy Mata are all very good ball carriers and very good rugby players."
A crowd of well over 20,000 is expected for the first leg, which was always going to be switched to BT Murrayfield to accommodate the interest, but Cockerill hankers after proper home advantage.
"Murrayfield's a great stadium, there are well over 20,000 tickets sold, so we've got to just get on with it," he said. "But a lot of Glasgow guys are familiar with it through Scotland.
"It has a great surface and a full size pitch and that suits some teams against us. We need to play as many games as possible at Myreside, and make that as difficult a place to come as any other home ground.
"We'll see what happens in the (third 1872 Cup) game  in May – maybe we'll be at Myreside and we can sell it out. We can have our own home fixture with our own home stadium."
Edinburgh team: Blair Kinghorn; Dougie Fife, James Johnstone, Phil Burleigh, Duhan van der Merwe; Jaco van der Walt, Sam Hidalgo Clyne; Rory Sutherland, Stuart McInally (capt), Simon Berghan; Ben Toolis, Grant Gilchrist; Viliame Mata, Hamish Watson, Cornell du Preez.
Replacements: Neil Cochrane,Murray McCallum, Matt Shields, Fraser McKenzie, Jamie Ritchie, Nathan Fowles, Chris Dean, Darcy Graham.