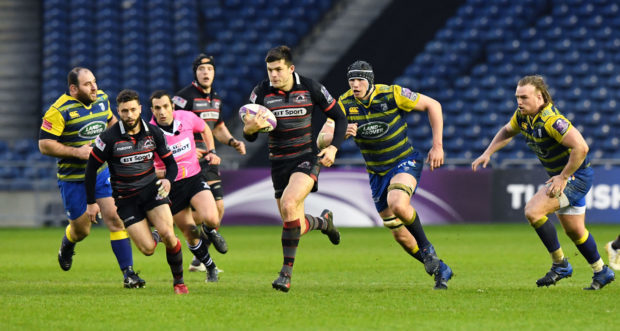 Richard Cockerill's continuing insistence throughout his Edinburgh's undoubted resurgence that "we're not a good enough side" looked a lot like false modesty until Saturday night.
That phrase is one of two stock quotes in the Englishman's always-entertaining press sessions – the other is "staying in the fight" – and he uses it to illustrate why his team can't ever rest on any laurels that may be directed their way by their improvement this season.
Throughout 2018 and a run of six successive wins during what was supposed to be their toughest schedule of the season, it did seem Edinburgh were plenty good enough.
However when faced with a well-structured and organised Cardiff Blues side themselves enjoying a purple patch of form in Saturday's European Rugby Challenge Cup quarter-final, what the coach had warned proved prescient.
The final scoreline of 20-6 didn't flatter the visitors to BT Murrayfield in the slightest. Edinburgh toiled badly even with mountains of second-half possession and a man advantage for the latter part of the second half.
"I am pretty disappointed in how we played and what we did but we got exactly what we deserved," admitted the head coach
"We didn't execute, we didn't play how we'd have liked to have played with the ball in hand and they didn't allow us to do so. If you give cheap points away in big games it will come back to bite you in the end and it did."
The cheap points were two tries in the first half, the kind of bizarre, calamitous, "carry-on" scores Edinburgh fans had hoped they'd banished from their repertoire under their new regime. The first will surely be replayed in the "what happened next" category to Nathan Fowles' continual embarrassment.
The Scottish training squad  member turned his back and failed to locate the ball in the air when Jarrod Evans cross-kicked into the in-goal area, and the ball bounced off the scrum-half's shoulder straight into the grateful arms of Ellis Jenkins for the score.
The second try was a little more orthodox but equally chastening, Blair Kinghorn failing to deal with a bouncing ball squirming from his grasp in his own 2, Samoan Ray Lee-Lo pouncing to feed US Eagles skipper Blaine Scully for the score.
Kinghorn rebounded from that to be Edinburgh's only real attacking threat, but he never had the support on a couple of searing breaks to make them count. Cardiff's defence coped easily as Edinburgh rarely shifted the ball carrier from first receiver, the home side's efforts looking ever more predictable the harder they tried.
Despite the disappointment of losing at home in the last eight, one has suspected that this European run has been a bit of a distraction to Cockerill and Edinburgh. As a man who has led a team to win the main competition, the former Leicester coach seemed less than enthusiastic about the secondary event, and his main target has always been qualification for the big event next season.
"It's frustrating and disappointing but we've got three league games left and hopefully a play-off game – I'd like it to be in the league play-offs rather than the play-off game for Europe (qualification)," he continued.
"We've got to regroup and show some mettle as a group of people, myself included. We've tripped over tonight and it's disappointing but we have to get our game back on track for Friday when Ulster arrive."
In that respect if Edinburgh can reset and win on Friday against Ulster, they will secure a play-off place and furthermore entry into next season's Champions' Cup.
That's a target way beyond anything anyone at the club really believed possible last summer. And if Saturday's loss shakes any remaining complacency out of Edinburgh that Cockerill had somehow overlooked, then the disappointment of this loss will be worth something after all.