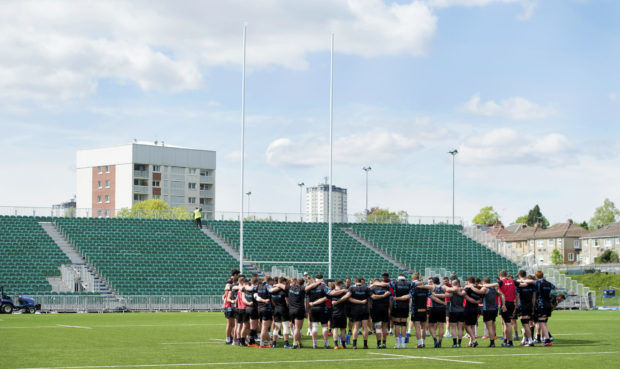 Dave Rennie has been in and won plenty semi-finals before, so Glasgow Warriors fans shouldn't be concerned with the light atmosphere ahead of Friday's PRO14 semi with the Scarlets.
The Warriors coach led the Chiefs through a play-off run twice in Super Rugby, so filling the three weeks between the 1872 Cup loss and Friday's game with paintballing, golf and two awards ceremonies – one official one for the fans, one unofficial and kept within the squad – has been aimed at not overloading his team.
"We have used the time very well," insisted Rennie. "We gave the boys a pretty tough first week on the practice pitch then three days off the second week and got a good head start on the Thursday, Friday knowing it was going to be Scarlets.
"This week is about fine tuning and making sure we have a full tank for the weekend. You have to be excited by (the play-offs) rather than fear the outcome.
"We have made sure we have had a lot of fun over the last few weeks but we have worked hard, and if we go in clear over what are their threats , just go and play and enjoy the occasion,  we canlet the scoreboard look after itself."
Scarlets smashed the record that no away side had won in the play-off semis last year in Dublin, but Rennie expects Glasgow's restored fortress at Scotstoun – new end stands are going up to extend the capacity to a round 10,000 – to be a major factor.
"There's no doubt that statistically we've been really strong at home," he said. "We've had 10 games here for 10 wins and nine bonus points – 49 out of 50 – and we haven't conceded anything here. No team has left with a bonus of any description.
"That's a hell of a record It gives us confidence, but we know it doesn't guarantee anything. Scarlets are a quality side, defending champions, and I'd imagine they'll be pretty highly motivated.
"I think it will make for a really high quality encounter. They have a positive mindset and so have we."
That positive mindset is reflected in the entire league, believes Rennie, and he was pleased to see both European finals won by PRO14 teams at the weekend.
"The great thing about our comp is that it is more positive, three of the four sides in the Champions Cup semis is a positive indicator.
"In the end, we have a responsibility to produce the kind of product that people [want to] pay money to sit in the stand and watch.
"I think it is a good mix over here. There's a fair bit of brutality and it's not just about throwing the ball around.
"People back home (in New Zealand) probably don't watch a lot of PRO14 and don't realise the quality of teams in it, which has been reflected in Europe this season."
All of the late call-offs for the final 1872 Cup game – Peter Horne, Sam Johnston, Tommy Seymour and Jonny Gray – are fit and available for this week, and Rennie expects his top men to step up.
"In big play-off games like this you need every player to front, and every player to fire," he continued.
"The mind set has been great. We are rapt to still be in the race. There are ten teams who are probably drinking a fair bit of alcohol this week but this is where we wanted to be.
"Our  heads are good and the bodies are good. We have to put that on the park at the weekend."