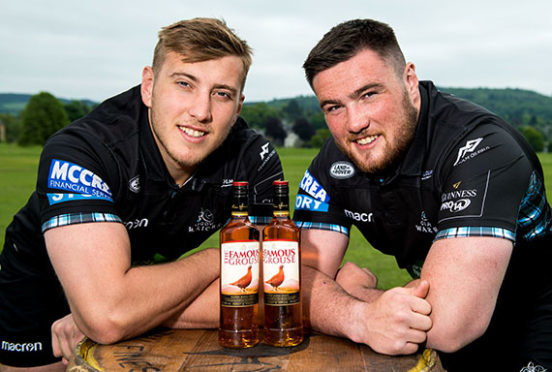 Glasgow Warriors will play a pre-season match this summer at Perth's North Inch in a custom-built temporary stadium to seat 5000.
The Warriors will build the stadium with sponsorship from The Famous Grouse to allow the Warriors to host Aviva Premiership club Harlequins in a friendly match on August 18, on the site of Perthshire RFC's ground right in the heart of the city.
"The Famous Grouse Pre-Season Challenge" is being held in association with Perth and Kinross Council, and was announced yesterday by the Warriors brothers Zander and Matt Fagerson, both of whom played at nearby Strathallan School.
The game will be part of a huge weekend of activity in the city, with the rugby arena also being used for other events. The event also coincides with the continuing celebrations for Perthshire's 150th anniversary.
Glasgow Warriors Head Coach, Dave Rennie, said: "It's great that we're taking a game to Perth and have the chance to engage with supporters from across our region.
"We represent the North of Scotland as well as Glasgow, so we're excited to get on the road again after the success of our game against Northampton in Stirling last year.
"Harlequins are a top side full of international players and will provide us with the type of challenge we need as we gear up for the new season."
Leader of Perth & Kinross Council, Councillor Murray Lyle, said: "It is a great show of faith in Perth that Glasgow Warriors have chosen our city to play host to this high profile pre-season match.
"The North Inch is a fantastic location and it will be an excellent opportunity to see a professional rugby match in the heart of the city."
John Laurie, The Famous Grouse Experience, General Manager, said: "We're proud to be backing Glasgow Warriors in their pre-season preparations as they welcome one of the biggest names in English professional rugby to Perth, our home since 1896.
"We are excited to continue our long-standing backing of rugby in Scotland. This partnership gives us a chance to bring a new and unique experience to fans of the game."
CEO of Perthshire Rugby, Allan Brown, added: "Perthshire Rugby are delighted that Glasgow Warriors have chosen the North Inch in Perth as the venue for this fixture and we welcome this high profile fixture to Perth as we embark on our 150th anniversary celebrations.
"We look forward to welcoming supporters from Glasgow and all over the Caledonia region to the North Inch, the home of Perthshire Rugby and we look forward to working with Glasgow Warriors and Perth & Kinross Council to make this a tremendous success."