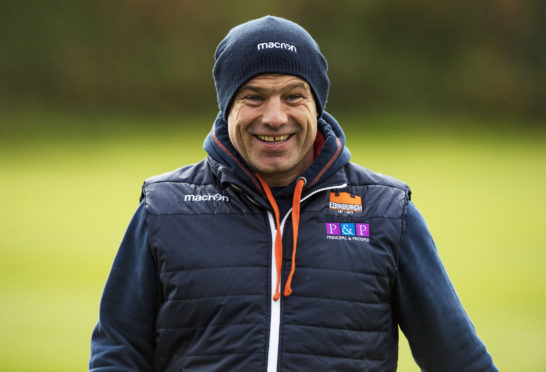 Any kind of result is a "win-win" for Edinburgh in the Heineken Champions Cup at Vern Cotter's Montpellier – except for "getting smashed on the scoreboard", says head coach Richard Cockerill.
The English coach leads the capital club back into the premier European competition for the first time in four years but is playing down any sort of expectations about his team's prospects in their pool opener at the Stade Altrad on Saturday.
"If we come away with anything at the weekend it'll be a bonus for us," stressed the coach. "It's going to be a learning process for us, isn't it? We're playing on of the biggest teams in Europe, with much bigger pockets than us and that buys quality.
"We'll see how we benchmark. This isn't a semi-motivated Stade Francais in the Challenge Cup, the two teams we play in the next two weeks (Toulon come to BT Murrayfield next week) are two of the big teams who'd like to think they can win the competitiom.
"It's a win-win for us as a team. If we go in and surprise people then I'll be surprised myself and if we lose, I guess we're supposed to. I just hope we play our best game, we physically turn up and we enjoy the experience, which means not getting smashed on the scoreboard."
Cockerill doesn't quite rule out the chances of his team getting anything from the south of France, but he knows they'll have to step up on recent displays.
"Our ball in play average is 40 inutes, their's is just over 30," he said. "We're a pretty fit team, as we saw at the weekend we've just got to take opportunities when they come.
"Against the likes of Treviso and Cheetahs you get multiple opportunities. If we get four or five opportunities against Montpellier we're going to have to take three or four of them.
"It's going to be a huge test for us mentally and physically, especially for some of our young players who haven't played at this intensity.
"They will need to be a little bit off but I don't imagine Vern (Cotter) having an unmotivated team this week. It's a Scottish team coming to his club. He knows us well and won't want to be getting beat at home by Edinburgh. They'll put out a good side and be motivated."
Cockerill admitted it would be hard to leave out pint-sized flier Darcy Graham even if he is up against someone like Montpellier's giant Fijian wing Nemani Nadolo – "who is bigger than any forward we have".
"Darcy played really well on Friday and if people play well they deserve to get picked," reasoned Cockerill. "I'm not sure I could sit down with Darcy and justify not picking him.
"If you play well you should stay in the team, simple as that. If he's playing against someone considerably bigger than him then he's got to deal with that because at the moment he's one of our best wingers."
The head coach is concerned that his team's form has been "a little bit mixed".
"We probably could have won at Ulster and that was our own fault, and we've played reasonably well this past fortnight but let teams back in it here," he said.
"Our form's been okay, but we've not played anyone near the quality of the team we're playing at the weekend. They're sitting fourth in the T14 since yesterday and that's a pretty tough league.
"We'll go and enjoy ourselves and play with a smile on our faces, enjoy the experience. There's no pressure on us to win the competition and I'm sure there is for teams like Montpellier and Toulon to go deep into it. I'll be more than delighted if we get anything from the game on Saturday."