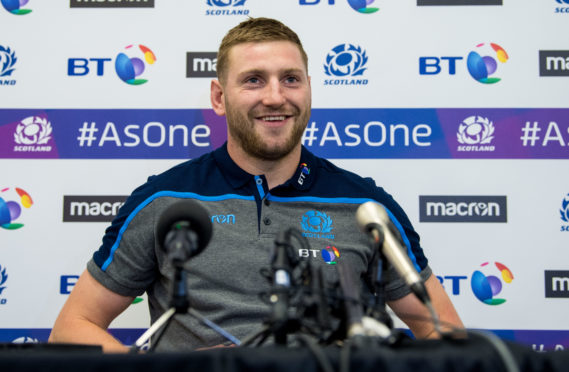 Finn Russell's determination to ingrain himself in Paris culture is laudable, but it could still use a little work.
In order to improve his fledgling French, the Scotland stand-off who joined Racing 92 this summer goes out to dinner most nights in Paris – as you would – but the results have been mixed, to say the least.
"I'd got into a phase that after a hard day's training I'd go home and just play the Playstation, so I started to go out to eat," he explained.
"If I go to a restaurant I can practice my French, but the problems start when they start asking questions back.
"You know the first couple will be 'inside or outside' and 'how many people', but after that I am completely lost!
"And I ordered liver by accident the other night. I hate liver, but I had to eat it because I didn't want to offend anyone."
Fortunately Russell speaks a universal language on the pitch (and most of his team-mates are bi-lingual even if he isn't yet) and he's settled into life as Racing's stand-off with considerable aplomb – the club are well placed for a play-off place in the Top 14, and have had an excellent start to the Heineken Cup with back to back wins over Scarlets and Ulster.
"The rugby stuff is not too bad because things are up on a board and you learn lots of words because you know the context," he continued. "But I've had to establish myself, I still am trying to, and a lot of that is to do with language.
"I can't always get my point across as I want because the bits of French I have are basic, so I have been working hard on doing the basics well like passing and kicking so it makes it easier for the boys to feed off me.
"I am still settling in as a player and the guys are still getting used to me and the things I do, things that might have been more natural at Glasgow. It is up to me to do the basics well."
Perhaps that's been a good thing for Russell, as it may have reined in some of his more flamboyant tendencies, with no detraction from his effectiveness. Racing are behind only Greig Laidlaw's Clermont in try and points-scoring in the Top 14 and he has been the frontline placekicker, while he had a fine all-round game for Scotland against Fiji on Saturday.
Coming back to Scotland for the Autumn Tests has further convinced him he's made the right decision.
"It was great for me as a player because I've had to be the decision maker, the man who controls the game," he said. "At Glasgow I was so comfortable with life, it was becoming repetitive almost. So I was looking forward to the challenges I was going to get and it's actually been easy to fit in.
"And it's been great to come back and see the boys here. I've been getting a bit of banter about how many baguettes I am eating, but it is just the lifestyle over there. Actually my weight has come down, so I must be doing something right.
"And it's different living out of bags rather than going to the flat in Glasgow I shared with my wee sister and Ali (Price). I don't mind, being away then coming back for a few weeks keeps things fresh."
He's come back to find Adam Hastings now regarded as a live candidate to challenge him, but he's fine with that too.
"He's 22 so four years younger than me, and I'm trying to help him out as much as possible," he said. "Yes, I'm competing against him but I don't see him as the enemy, I played 12 outside him on Saturday for a while which was good fun.
"It's good having lots of competition, Duncy Weir is back in the squad too. The more competition for every position is great, it forces you to be at your best, not just in games but training too, to keep that jersey."
And South Africa, who Scotland last defeated in 2010 and only twice since they returned to the international game after the apartheid boycott, are the ultimate challenge of this autumn, he agreed.
"They're obviously very dangerous, score a lot of tries from counter attack," he said. "They're very physical too. We'll have to get a balance on how much we throw it around.
"We will definitely go for it at times. As with every game you sometimes have to slow it down, stick a high ball up, a long kick, give them a go and defend. We have Horney's (Pete Horne) left foot and Hoggy's big boot as well to mix things up.
"It will depend on how the game unfolds. Me and Greig will get feel for it."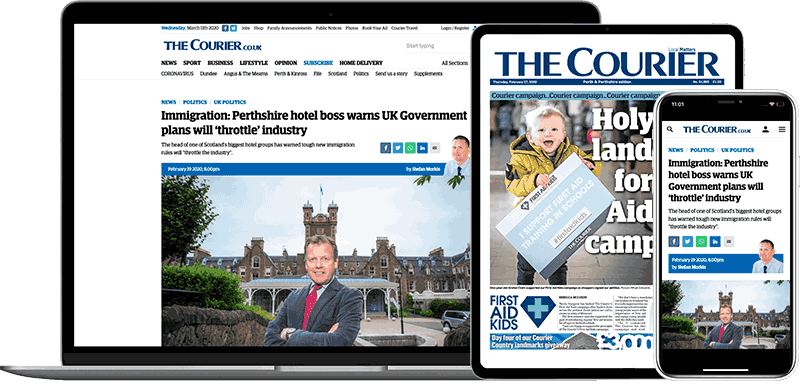 Help support quality local journalism … become a digital subscriber to The Courier
For as little as £5.99 a month you can access all of our content, including Premium articles.
Subscribe