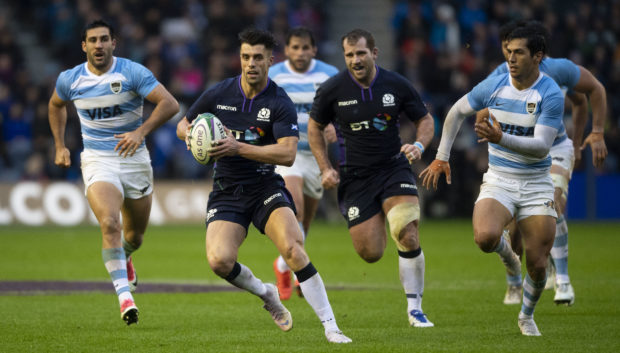 If you're not going forwards, you're going backwards goes the adage-become-cliché, and if you hold fast to it then Scotland unquestionably regressed this November.
Two wins from four, with defeats to Wales and South Africa and wins over Fiji (a result that looked a whole lot better after Saturday night in Paris) and the final slog in the rain over Argentina. It's been a sideways step at best, and even Gregor Townsend admitted his side hadn't found the heights of the New Zealand and Australia games a year ago, or the Calcutta Cup game in February.
Grasping and finding that "benchmark" against the Pumas was always unlikely. The rain that fell almost constantly during the match was relevant but no excuse – we play rugby in Scotland, not San Diego, after all – but the Pumas saw how South Africa blunted the Scots' attack and looked to do much the same.
It was slightly less effective on the scoreline, because Scotland didn't gift tries to the Pumas and had their most coherent defensive display in some time – well at least until the final six or seven minutes.
In attack the Scots, although blunted by the playing off the backfoot, also seized on just about every chance they had for points, while in contrast Argentina missed four relatively simple penalty kicks and fumbled the ball six metres from the line in a last-gasp desperation attack.
If we were measuring this autumn on the same gauge as last autumn, then it's surely a regression. The Scots then had similar injury issues (two front rows' worth, plus no Greig Laidlaw) but had a fresh style that caught most opponents off guard. That element of surprise was gone by the Six Nations and of course very little of what Scotland did was surprising this autumn.
But this is international rugby, where coaches spend the evening of the game looking at video and then most of Sunday as well, and then spend most spare moments getting up to speed on everyone else. Every international game is visible, nothing stays shocking or remarkable for long. Scotland's super-speed game under Townsend was old news by Cardiff in February for those who cared to look.
The obvious reaction is to look for more innovation, and maybe that's what Townsend was looking for when he paired Adam Hastings with Finn Russell in midfield. It was pure experimentation, and that's what makes one more optimistic about where Scotland are, and thinking a sideways step this autumn is no calamity.
Townsend has an eye for an adventurous selection, and this was his most blatant so far. But it didn't work, and most of that had to do with Russell rather than Hastings, who was the man hooked after an hour's play.
I felt sorry for Adam; he'd made Scotland's two best solo breaks of the game, neither properly exploited because he didn't have his Glasgow sidekick George Horne reading his moves and running his brilliant support lines.
Hastings was also simply over-enthusiastic on occasion, giving away two penalties trying too hard. A third was not even his fault, doing well to retrieve ball but being abandoned by three team-mates who were sluggish to clear out as he went to ground.
He had a few hopeful rather than incisive kicks and was a bit too lateral taking the ball to the line, but deserved better.
Russell was the issue, and not because he played terribly badly. He seemed isolated from the action at 12, the extra time he had in midfield just made him indecisive. The spring in his step when he went back to 10 was visible to all.
Maybe the combination would work against a team where Scotland had some front-foot ball – maybe Samoa or Japan in the World Cup – but it was not really feasible against an Argentina, a South Africa, or really any of our forthcoming Six Nations cousins. It's Russell or Hastings, rather than "and".
That front foot-ball is another issue. Townsend thought his side had done better at the breakdown than against Argentina, but again they were under the cosh physically, didn't make much ground and the speed of ball for Laidlaw was often pedestrian. Josh Strauss, brought back to provide that oomph, didn't pass the audition.
Scotland will be better on their own ball and their opponents' if John Barclay returns to fitness and form, but he's far from the complete solution. There's further back row options – David Denton, Magnus Bradbury and we missed the opportunity to see something entirely new this autumn in Blade Thomson.
The one real find of the autumn has been Jamie Ritchie, who can play at 6 or 7 and excelled when given his chance. On Saturday, he made a legion of tackles – including one to stop a wing in full-flight – and produced the steal that set up the position for the try.
The proper backline (ie without experiments) doesn't need much changing – Laidlaw may not be the swiftest scrum-half around but his ability to pilot the team in the right direction remains crucial – and it was good to see unsung hero Sean Maitland get more reward.
Reportedly furious he didn't get to tour last summer, he's scored five tries in the seven tests he has played in 2018, six in his last eight. He looks like the complete wing, a brilliant defender and organiser, as well as an accomplished finisher.
So a sideways step, but not necessarily one tending backwards. Scotland at least don't go to the Six Nations with the usual unreasonable optimism. And with a few tweaks, they could still be a dangerous Six Nations threat to anyone.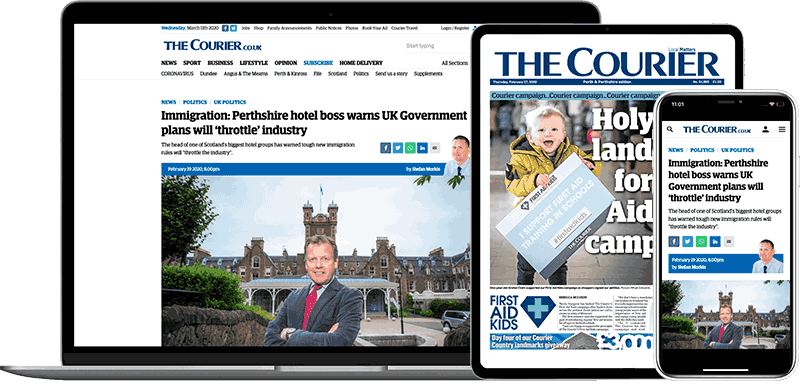 Help support quality local journalism … become a digital subscriber to The Courier
For as little as £5.99 a month you can access all of our content, including Premium articles.
Subscribe