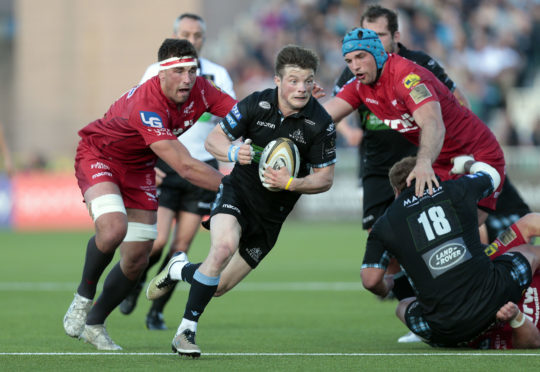 George Horne's meteoric rise at Glasgow was the main reason Henry Pyrgos ended up at Edinburgh but the pupil is looking forward to taking on one of his mentors when they meet the 1872 Cup opener this weekend.
Horne, the 23-year-old former Howe of Fife player has an astonishing 15 tries in just a season and a half in the front line with the Warriors and might be the festive re-signing that most pleases the Warriors faithful, having agreed a two-year extension to his current deal that will take him up to 2021.
And it was Horne's rise last season that ended with him winning Scotland caps that effectively forced Pyrgos out of Scotstoun to join up with Edinburgh, where he has been a key contributor for Richard Cockerill's side this season.
"It will be different playing against someone who was at the club last year – it will be strange for him and us – but we'll just focus on ourselves, and try and pit in a decent performance to get a win," said George, ahead of the opening 1872 Cup game at Murrayfield.
"I looked up to Henry a lot. He was a great player for the club, he won a championship and played a lot of times for Scotland so I tried to pick his brain and learn as much as I could from him.
"Having him here for a few years was great for our development and it's great to see him doing so well at Edinburgh."
As for himself, Horne is happy to be staying at Glasgow despite the rave reviews he's getting around Europe for his displays for the Warriors, including the man of the match performance in the first of the two European games against Lyon this month.
"It was a big game, massive for the club to put us in a good spot for Europe," he said. "In terms of individually, I just tried to do what I always do, get to the breakdown quick and pass and kick accurately and just try and put the team in the right spots.
"But I'm really enjoying my rugby here, the club is in a great place, we've been pretty successful over the last two years, we have a great squad and coaching team. This is the only club I've been at and when the offer came I was a delighted to sign the extension, it was a pretty easy decision."
George's speed of development is all the more remarkable in that he didn't really play scrum-half until his second season in the Scotland Under-20s, when he was barely 19.
"I was a 10 all the way through school, and my first year ay under-20s I played a couple of games at stand-off, and then moved to scrum-half in the second year because there was a couple of injuries and they decided that was where my future was, so it's three or four seasons now I have been playing scrum-half.
"It is a lot different, at ten there was a lot of pressure on decision making and running the team, whereas nine it is about the basic skills of passing off the deck and box kicking – skills that I am still getting to grips with now and trying to improve."
As he did so, George's other talent as a placekicker has gone on the backburner but he's keeping his targets sharp.
"I still practise but we've got Adam (Hastings), Pete (Horne) and Brandon Thomson who are all excellent kickers as well," he said.
"When moving to scrum-half I had to focus on those skills a lot more often, but its' something I still do practise and I'd be happy to do it if needed.
"For Scotland Greig (Laidlaw) is a world class kicker from scrum-half but he is also an excellent decision maker. There are a lot of things that he is good at that I can take for my game and work on myself.
"But at the moment the focus is just to try and nail my scrumhalf basics rather than try and do everything."