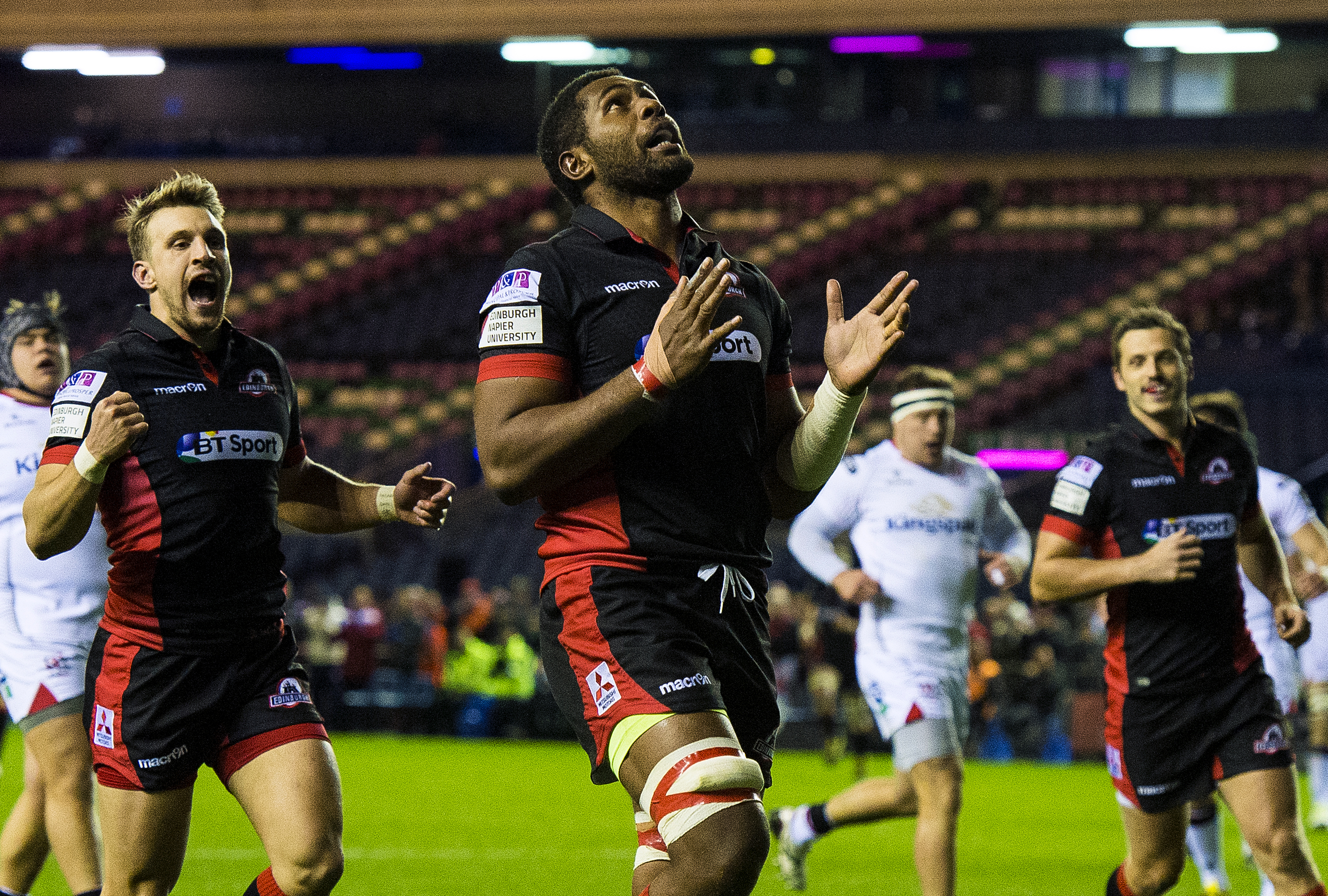 Short of selling the vital organs of his children – one assumes he wasn't being serious about that – Richard Cockerill will do everything to keep key players like Vili Mata at Edinburgh as contract negotiations start to swirl around his improving team.
Mata's offload for the ages to James Johnstone for Edinburgh's third try against Toulon on Saturday in their Heineken Cup victory merely adds to the Fijian's growing reputation, and he's contracted to the capital club until 2020.
There will be no cashing in with an early sale, however, and head coach Cockerill is adamant he'll do everything he can to keep his best players, even though Edinburgh can't compete in budget terms with the big French and English clubs.
"I will sell which ever one of my children's kidneys…" he joked. "We'll do everything we can to keep our best players, that includes Vili or anybody else. How realistic that is we'll see but I'm up for the battle don't worry.
"If we've got any ambition as a club we are going to do everything to keep our best players; we are not going to be a selling club.
"We are a team who are going to develop our players and keep our best players where possible. I won't be selling anybody ever out of our team that's doing what Vili's doing for us."
Cockerill jokingly played down Mata's now famous offload in Toulon, saying he thought Jamie Ritchie's to Darcy Graham for the first try was better.
"Because he's a wee Scotsman nobody says anything about it," he said. "Vili's was a great offload but it's a pretty good take by Johnstone as well; if Jimmy had dropped that I'd have been banging the desk saying 'Vili keep hold of the ball!'.
"Vili's a quality player, I'm never going to pretend that he's not but he's our player, we've developed him and he's going to be very important to what we do in the next six months."
Edinburgh will lose one international player at the end of the season, Cockerill confirmed, with Allan Dell having agreed terms with London Irish to move when his contract expires.
"It's a good opportunity for him and he's got family that have just moved to London, he's had a good offer, so it's turned into a perfect storm for him," added the coach.
"I don't think it's anything about his playing time, it's about opportunity. London Irish are coming up and they have a good budget to recruit a squad, and Allan will be part of that. We wish him well but we have six months of our season left and he'll be an important part of that."
Edinburgh are talking with "lots of players" and one is Michael Willemse, the Kings hooker who has been quoted in South Africa as being ready to make the move to the capital.
"We live in a world of social media where rumours get spun around the whole time," said Cockerill. "I don't have anything to tell, really. I might speak to the agent of (All Black captain) Keiran Read but he's not coming, is he?
"The agents might be more interested in us after the last few games but the prices are just the same. We've got a budget, it's certainly not tiny but it's not big so we have to create an environment where we produce good players.
"It's a jigsaw and a difficult one; part of is positional, part of it is financial and part of it making it work for the (Scotland) cause. It's never a perfect picture but we will do the best we can to get the best squad we can."