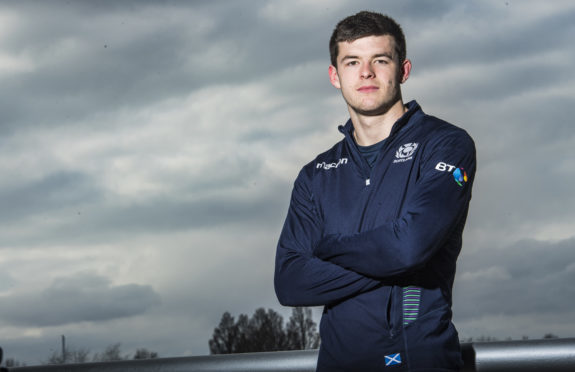 Blair Kinghorn's part in Edinburgh's try of the season was simple – pick the ball up, and look for Bill.
Kinghorn launched his Fijian team-mate on the charge from their own 22 and was there for the offload on Mata's right, but the No 8 chose his outrageous over-the-shoulder pass to the left where James Johnstone collected and went 50 metres for the try that secured the club's historic victory in Toulon on Saturday.
It also set up this week's Heineken Champions Cup Pool 5 clincher with Montpellier at Murrayfield, and the team want that to be the defining victory over the club's season so far even if the win in the Stade Felix Mayol fulfils that right now.
But he remembers clearly his instructions when Mamuka Gorgodze spilled the ball on the charge into Edinburgh's 22 and the counterattack was on.
"It was Hamish (Watson) shouting "go right", and I looked up and saw Bill, so it was just a case of "there you go" and the rest is history," he said. "We know he's capable of that but the support line from JJ was just outstanding, he'd run all the way from our 22 to be there for the offload.
"I was on Bill's right if he needed me but he definitely chose the right option. It's great when we can score tries like that.
"Counter-attack tries are brilliant because the defence is always unorganised. So, we've got the first two phases to exploit it and we managed to do that it without even having one, so a brilliant, brilliant try."
The confidence is flowing through Edinburgh right now, and it's a fulfilment of what they're working so hard on every week on the Murrayfield back pitches.
"Yes, we're surprised at how well we've done, but we know as a squad what we're capable of and I think we're showing that in games," he said.
"Even after Toulon scored a try after two minutes, we were all still calm. Rambo (Stuart McInally) took us in, had a quiet word and it was onto the next job, focus on the kick off and from there on I think our defence only got better."
Edinburgh now face a similar challenge at home to Vern Cotter's Montpellier, knowing that the huge prize of a home quarter final – almost unimaginable when the draw as made – is there for the taking.
"Montpellier have a lot of world class individuals, but they're fairly similar to Toulon and it is quite helpful having played another big French team the week beforehand as well as having played them in the first game of the pool," he said.
"I think we're expanding as a team, getting better week-on-week; our form's getting better away from home; little details we're starting to see every time we review games, little habits are getting better and that's paying off when it comes to game time."
And if Edinburgh beat Montpellier it'll have the benefit of securing Glasgow's place in the last eight as well regardless of their result against Saracens, and Kinghorn sees that as good for the state of the nation.
"I think it would be massive," he said. "Scottish rugby's going up and up, performances from both teams are getting more consistent.
"A lot of people saw Edinburgh as the underdogs and Glasgow as the ones out in front, but I feel that with our form and the way that we're playing, at the moment we're getting back up there.
"It would be good to see both Scottish teams in the quarter-final, but we need to do a job on Friday for ourselves."