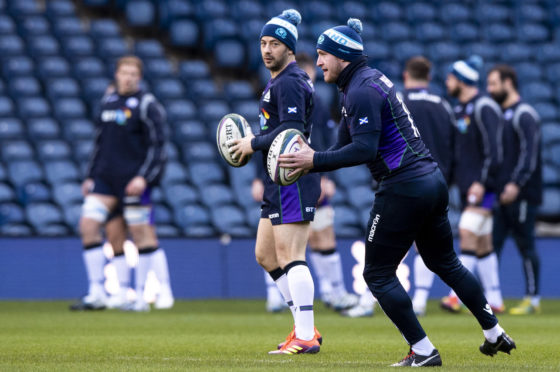 The wind that swirls around the bowl of BT Murrayfield could be to Scotland's advantage today in their Guinness 6 Nations clash with Ireland, if it's as strong as forecast.
Two years ago the wind helped Scotland to a commanding 21-5 half-time lead, only for Ireland to come back and lead going into the last ten minutes, when a surprisingly resilient home team rallied for two Laidlaw penalties and the win. Conditions are forecast to be similarly blustery or even worse today.
Laidlaw's kicking game never seems to falter in the national stadium no matter what the conditions, but he'd rather it was a flat clam to allow Scotland to play the kind of rugby they want to play.
"It certainly doesn't make it easier in terms of how both teams want to play," he said. "It makes things difficult, there's no getting away from that. Passing, kicking, everything becomes harder.
"We feel we've got a good game plan to be able to cope with these conditions and change it when necessary."
That ability to switch to Plan B – something that both teams today have been accused of struggling to do – is a sign of maturity in the Scottish team, especially 12 months off from their loss in Dublin last year.
"I think we've matured a lot, to be honest, and bringing Sean Maitland back into the team is a real positive, in that respect," continued Laidlaw. "Blair Kinghorn was great last week and him being on the bench is excellent for us.
"But Sean is a big player, he's played in a lot of big games for Sarries, for Scotland, for the Lions. He's got so much experience."
Laidlaw also detects a growing maturity in his half-back partner Finn Russell.
"Finn has really stepped up in that area of his game," he said. "He's always been an excellent player and he's added some levels to that side of his game.
"I think going to France with Racing has shown that, with his performances there and his showing against Italy last week. That experience will be vital tomorrow: we need these guys to give us direction – and to not panic when the game is tight."
The Scots will also need the vocal backing of the Murrayfield stands, a factor Laidlaw feels has been a huge influence on the team in the last few months.
"We'll need the fans, absolutely, and that's one of the reasons we're really proud of our record here, because we're so connected with our supporters now," he said.
"I think they can see that and they appreciate that. The big wins we've had here, beating teams like Australia, Argentina, Ireland a couple of years ago, France and England, the supporters have been incredible.
"The way tickets have gone again for this game and the 6 Nations are a reflection of how the team's been playing. Every time we run out here, we're representing the people who come to the matches, the people who watch us on TV, not just ourselves."
Laidlaw can go past Gavin Hastings to second on Scotland's all-time scoring list with 10 points to take him to 678 today, with only Chris Paterson remaining in front of him, but typically the skipper isn't concerned by personal milestones.
"If it comes, it will be nice, but it's not my focus at all; it's about winning the game," he said. "Honestly we'd take a 3-0 win if somebody gave us it right now.
"It's going to be a tough game against a really strong Ireland team, so records being broken don't really matter – as long as we get the win, first and foremost.
"Ireland will be looking to right a few wrongs, they would have felt, in their performance against England. They will be hurting from losing the physical battle, so that will be tough for us.
"We're certainly not going to go out and try to play like England did. We're going to play like Scotland.
"We've got to back ourselves in what we do – and everybody's got to buy into it."