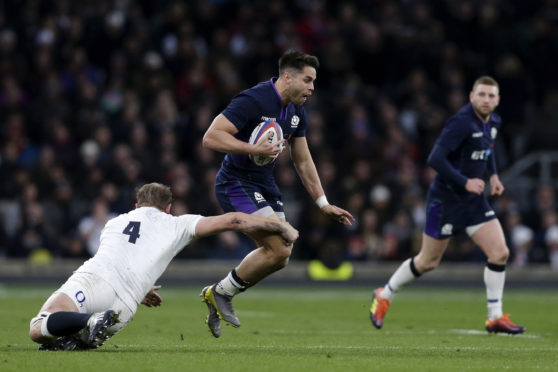 Sean Maitland and teammate Simon Berghan had heavy hearts as they observed a minute's silence for the terrorist outrage in their home city of Christchurch at Twickenham on Saturday, but the two adopted Scots resolved to "make our city proud" by their performance.
They did that – although it was in the most unexpected fashion imaginable – but both the New Zealand-born Scottish players with Christchurch connections still felt disbelief and horror at what happened back home.
Maitland is not from Christchurch but played for the Crusaders Super Rugby franchise with distinction before coming to Scotland. The wing's wife Nava and her family are from the South Island capital with links to the Muslim community there.
"There was a lot of emotion in the minute of silence," said Maitland after the game. "Christchurch has had its fair share of setbacks and this is one of the darkest days.
"My wife's family are originally from Iran and emigrated to New Zealand after the revolution there. They have Muslim ties although they are not active, but it's still very close to home.
"My mother-in-law was in the park close to the hospital when the police starting coming from all angles. I know where the mosque is, I knew exactly where they were talking about.
"Christchurch isn't a big place so everyone will be affected, but it's a resilient city, especially has been since the (2011) earthquake.
"The whole of New Zealand and the Muslim community will stick together."
Maitland had woken up to text messages from relatives and at first thought there had been another earthquake.
"All the messages were `is everyone alright?' so I was thinking another earthquake, but I went on Instagram and I saw a message from Sonny (Bill Williams, the All Black centre and Muslim), who I played with in Christchurch, in tears and couldn't believe it.
"We've just been stunned by it. It was hard to get a focus on the game, to be honest, but Bergy and I just had a word with each other and said, "let's got out and make our city proud".
As for the game itself, Maitland admitted that the overriding feeling at half-time was shock among the Scots players.
"The thought was, here we go, same as two years ago (when Scotland had a record loss of 61-21).
"We had nothing to lose, we just backed ourselves, kept chipping away and soon we had the lead. Just crazy scenes."
The wing was one of the few survivors from the famous Rugby World Cup quarter-final loss at Twickenham four years ago, but after consulting the team's prominent supporter they had agreed the feeling wasn't as bad as that controversial last gasp defeat to Australia.
"Princess Anne came into the dressing room just there and I said to her, `remember the last time you were here in `15?'. Those were dire scenes and you could hear a pin drop we were so devastated.
"But we agreed that this time things are a lot more positive and the boys think that too.
"It is disappointing though, we're gutted to not win when we came back to lead with just a few minutes to go. But we played the rugby the way we wanted to play and showed real character."