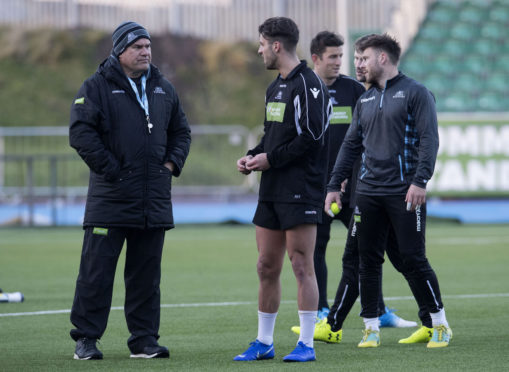 Adam Hastings is happy for Dave Rennie to say that the current Glasgow Warriors stand-off has the potential to be better than his former team-mate, Scotland stand-off Finn Russell.
The Warriors head coach last week expressed his view that Hastings has the chance to be a better-rounded player than the current unquestioned No 10 for the national team, even given Russell's vast importance to Scotland and his reputation as one of the most gifted playmakers in the world game.
That may have reflected a somewhat uneasy relationship between Rennie and Russell in the last few months of their time together at Scotstoun, when it became clear the Kiwi would have preferred a less free-flowing style in the keynote position.
The coach didn't seem too upset at Russell's departure to Racing, and he doubled down on his praise of Hastings after Saturday's 34-10 hammering of Edinburgh that secured a Guinness PRO14 semi-final at home two weeks on Friday.
"I reckon he will be (better than Russell)," said Rennie. "Finn is world class on his best day, absolute world class. What I was talking about was the consistency of his performances.
"Adam is a bit like that too but the thing I love about Adam is that he is so competitive, his work rate is huge and his ability to connect behind the forwards quickly is better than Finn's.
"That means we have real, genuine threats around there and (defences) can't fly out because Adam is an option.
"Finn is a fantastic distributor, a fantastic tackler, all I am saying is that Adam has the potential to be better than Finn."
Hastings doesn't feel this puts more pressure on him – in fact just the opposite.
"It's a confidence boost, I think," he said. "The best thing about Rens is that he backs all of us, you can see that from the way he throws boys in when he thinks they are ready.
"It was nice to hear, but it's not on my mind too much."
For the stand-off, to perform against Edinburgh was some consolation for the two games in December when he felt he hadn't done well enough for his team.
"They have beaten us twice this season and they are the only team to beat us at home, so that was a big win for us," he said.
"The first two games maybe they wanted it more. But this time you saw a team hungry for it, you saw it in our defence, getting off the line, our big boys smashing it.
"Personally, it was nice to get the monkey off my back. I thought I lost that first game (at BT Murrayfield) for us and played poorly over that Christmas period. It was really important for me to get that win and to play at least half decent."
Glasgow now feel they are peaking at the right time, spurred on by how badly they lost the Heineken Cup quarter-final against Saracens and determined to show their worth.
"In recent weeks you have seen a squad that is hungry and that showed against Edinburgh," he added. "We spoke about what a big game this was. We had potential for two home games and don't have to leave the city or our beds with the final at Celtic Park, that is massive for us.
"But the best thing about us right now is we are staying firmly grounded. We have had three massive wins since the Saracens game and every week we have said we have to do it again.
"That will be the mindset going forward. It is knock out now and we have a potential two more games and we are there."