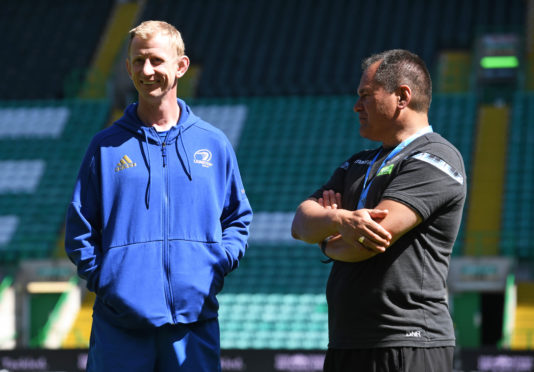 Leinster head coach Leo Cullen apologised for any offence caused by his comments "in jest" asking Celtic fans to support the Irish province during today's Guinness PRO14 final and paid fulsome tribute to the Warriors' "amazing progression" to this point.
The coach had made what he described as a "throwaway remark, made in jest" after their semi-final victory saying that most Warriors players were Rangers supporters and Celtic fans should back Leinster.
"I didn't mean to offend anyone, and I apologise to anyone who was offended," he said.
The former international went on to say that he made played his first game for Ireland at schools level in Glasgow, and that he and Leinster had come over "on a regular basis" over the years.
"The progression of rugby here from Hughenden to Firhill to Scotstoun, and now to be playing here at Celtic Park, is truly amazing and we're proud to have played a part in that progression.
"We're unbelievably excited. Leinster feel very privileged to be here and we're looking forward to what will hopefully be a very good encounter between two very, very competitive bunches of players."
Leinster are determined to reward their fans after "letting them down" in the Heineken Champions Cup final at Newcastle two weeks ago, and captain Jonny Sexton – restored to the team along with veteran full-back Rob Kearney – described playing at Celtic Park as a "once in a lifetime" experience.
"I know Glasgow will feel what it's like to have a home final but it's a big occasion for us as well," said the Ireland and Lions stand-off. "There's obviously a big affiliation between this club and Ireland, and many of the guys in our squad will have watched games here and dreamed of playing here one day.
"To actually have the chance to do it, it's a once in a lifetime thing."