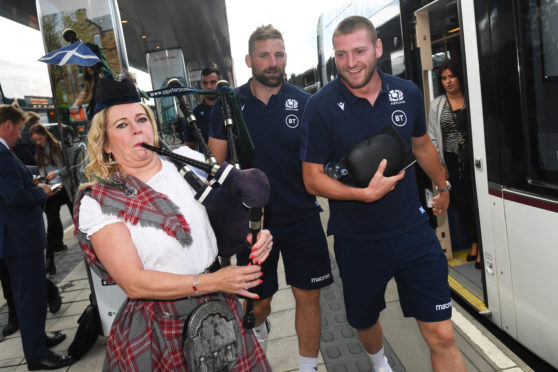 Nice in high summer is not the same as Paris in the spring, conceded Scotland assistant coach Danny Wilson, but that doesn't mean that Scotland aren't prepared for a fully-fledged test match on the French Riviera tonight.
It's Scotland's second game against France in six months and a third is only next week, but the stakes are different with these two warm-up games for the Rugby World Cup in Japan, a first "hit-out" by both sides and two squads itching for live action after weeks of training.
Scotland's management team have spent less time looking at France than they normally would, said Wilson, but the importance of the game was still there.
"They have picked a good side, a strong side," said Wilson. "It's a big front five, but they can do that three times over with other guys, a slightly less experienced back row and a quality back line.
"That's great – an away game in France against a strong side will give us really good opposition.
"We probably focus less on the opposition than normally, during the 6 Nations we would be far more analytical about them.
"It's still a Test match and everyone wants to win. Winning breeds confidence and gives you a stepping stone going into the World Cup.
"But there is also the ability to try a few things, different combinations, things you might take to a World Cup or scratch off because they didn't work well.
"But the big thing for our boys is that you can tell they are ready for a game. There is only so much training you can do without having something to go on. This is our first chance to do that."
There will be experimentation, however, while the Scots aim to show some but not all of their tricks with opposition coaches ready to pore over the film.
"A lot of that stuff is designed around the specific opposition you play, anyway," he said. "With all of the teams in this friendly series, we want to try things, but there is also the balance that there are things you don't want to show too early."
And there will be a certain leeway given to the players, with Wilson quoting the experience of captain Stuart McInally as a good example of that.
"I think he's extremely rounded as a professional and as a player and I've was really impressed with him since before I worked with him," he said of the hooker. "As an opposition coach I could see the quality of the player, and since coming into the environment I have seen it in spades.
"To think he came from back-row to hooker, and now we see the level he throws and scrummages. "We've got to be patient with players, and patient with experiments like that. Sometimes the natural thing feel likes to say straight away that something isn't working so it must be a bad decision.
"But Stuart is a prime example of good decision which was made for him to change position, and to allow him the time for it to organically happen – maybe by dropping down a level for a while to get used to it– as opposed to forcing it.
"Look what comes out the other end; a player who in my opinion is a world class hooker."