 Well, if they really needed any idea, Japan beating Samoa in Toyota on Saturday night was a crystal clear exhibition of exactly what Scotland are up against.
Japan play the ultra-fast rugby – the fastest rugby in the world, really – that Gregor Townsend aspires to. And they do it with supreme fitness and great execution.
Yes, Samoa gave Japan more of a game than they did to Scotland in Kobe on Monday, and the game was still in the balance when Samoa scored their try with ten minutes remaining and the Japanese still needing two tries to get to their bonus point.
But there may have been some succour for the Scotland team watching en masse back at their hotel in Japan's occasional mishandles under the pressure of Samoan hits, there were also plenty of warnings.
Like just how animated and free from fatigue Japan looked in the final few minutes to get themselves over the line. Like how well-drilled their mauling game is, much more effective and certainly much more dynamic than Scotland were in that area against the Samoans.
Like how their scrummage had Samoa's number for much of the game and specifically in the final few minutes. Like how the Japanese bench re-invigorated the team, even when Michael Leitch and Wimpie Van Der Walt went off.
Jamie Joseph has clearly prepared Japan superbly for this tournament and they've arrived ready to engage full gear. And I'd disregard the certain off-colour elements of Japan's performances against Russia and Samoa; they looked like they'd spent most of their time in a thorough analysis job on Ireland and you have to think they've got a similar detailed plan to execute against Scotland.
And also don't dismiss the pressure of the host nation and the general goodwill everyone seems to have for the Japanese team fighting above their weight.
The decision of referee Jaco Peyper to ping Pele Cowley for a squint feed on that final Samoan scrum just when Japan needed it – there had been plenty for him to choose from in this match and it's hardly been penalised at all in the tournament – raised an eyebrow or two, shall we say.
Scotland can't expect any favours whatsoever over the next two games. They'll have to be good enough to overcome anything that might occur.
Farewell to Osaka
After two weeks, The Courier is moving on from the – ahem – compact lodgings we were afforded near Osaka, slightly to the north of the city itself, thereby managing to keep what is regarded as Japan's party city at arm's length.
Well, most of the time anyway. Osaka city, especially the neighbouring districts of Shinsaibashi, Dotombori and Namba, is a proper, full-on, assault to all the senses experience. Apparently this part of the city was the inspiration for the cityscape in Ridley Scott's classic sci-fi film Bladerunner, and you can definitely see why.
At the top end, it's the wide, airy Mido-Suji boulevard, all designer stores with Louis Vuitton, Dior, Dolce & Gabbana and all the rest, including the biggest and sleekest Apple Store you'll ever see. The further you south get, towards the Dotombori river, it becomes something quite different.
Move off Mido-Suji into one of the many sidestreets, there's a warren of restaurants, ramen shops and tiny bars up alleys and narrow stairwells so well hidden you wonder how anyone knows they are there. Then you get fleeced for the 400 yen cover charge just to sit down at one of the ten or less seats at the bar.
The choice is overwhelming – unless you've got good advice from a friend or have really gone through Lonely Planet with a toothcomb, you have no idea where to stop. So your correspondent spent most of the time wandering through the packed sidestreets taking in the plentiful sights, sounds and smells.
Huge video boards light up the night sky – you only get the proper Osaka experience after dark – and the streets are literally teaming with people. But while Osaka has the highest street crime rate in Japan, it's all relative; at no time did we feel intimidated or apprehensive.
If the frenzy of Dotombori is a bit much, there's the gigantic, multi-storey shopping mall at Umeda Station and another, supernally spotless large mall at Nanba at the bottom end. Or there's the peace and serenity of the ancient castle and gardens to the east.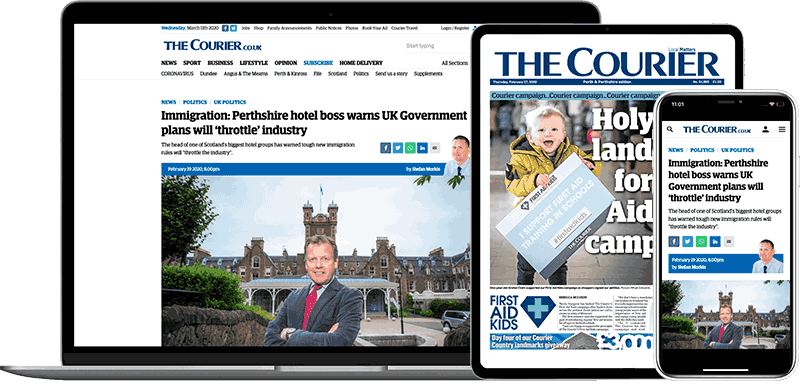 Help support quality local journalism … become a digital subscriber to The Courier
For as little as £5.99 a month you can access all of our content, including Premium articles.
Subscribe