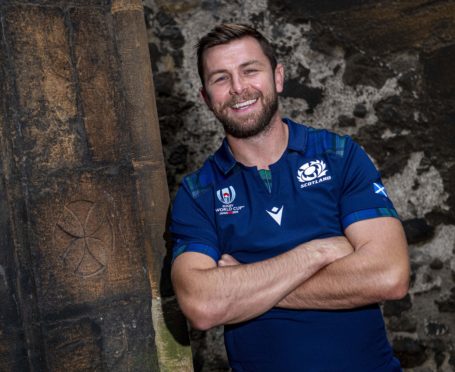 We've just hit three weeks in Japan in the press corps, but the team have been here for more than four now, and they seem to be battling to stave off tour boredom.
The long gap between the Samoa and Russian games can't have helped, as murmurs of various high-jinks are starting to leak out.
The team hotel in the new venue of Hamamatsu is part of a gargantuan mall called Act City, which includes a conference centre, a cinema and a concert hall – the last one fittingly as this is Japan's music city, the home of the Yamaha corporation and their quality keyboards.
Act City towers over the city at more than 50 storeys high and is apparently supposed to resemble a harmonica perched on its end. I can't see it, but that's what it says in the literature.
The guest rooms are all on the higher floors and those who follow John Barclay on Instagram were treated to a portrait of his room-mate Ryan Wilson on their window ledge looking across the cityscape, disconcertingly wearing nothing at all, although in a tasteful pose.
Barclay has long been the agitator in chief on Scottish tours, his many "fleg" videos surprising Stuart Hogg in various hotel corridors across the world being particularly popular with Scotland fans.
"We are starting to get up to a bit of no good in the hotel," Barclay admitted yesterday. "A bit of messing around.
"Someone was talking about taping all the furniture in someone's room to the ceiling.
"It's been fun to be honest. Tours, as much as I love them, they can drag on a bit. We've been away for more than four weeks now but I haven't felt any discontent. Everyone is enjoying themselves."
Prop Gordon Reid's videos on Twitter have entertained, including a tour of Stuart McInally's lodgings in Kobe – as skipper, "Rambo" gets a room to himself and even daily fresh fruit.
Gordy gave us a blow-by-blow account of his eating habits since arriving in Japan, much to the mirth of the home media. Katsu Chicken Curry – like the chip shop curry sauce you get back home – is his favourite, but he quite liked the Green and Purple balls he bought from a convenience store in Kobe.
He still doesn't quite know what they were. The likelihood is the purple one was an octopus-flavoured rice ball.
The magnificent Shinkansen
Sorry to harp on about this yet again, ScotRail, but the Shinkansen bullet train is simply the most magnificent form of transport and it's with deep regret that we can't bring this exceptional high-speed rail network home with us.
The recent machinations of HS2 plan in the UK and whether they can get a link up as far as Leeds from London makes one shake the head in disgust. Especially when you jump on a Hikari Superexpress at Kobe and it gets you to Hamamatsu in an hour and half – the equivalent distance of Edinburgh to Birmingham.
It's not cheap – 10,420 yen for that trip, which is just short of £80 – but if you're visiting Japan the three-week JRail Pass at about £450 pays for itself fairly quickly if you're travelling the length and breadth of the country (which you definitely should). The pass gets you on just about everything except certain city subways and the superfast Nozomi Shinkansen.
As with all Japanese trains, they're ultra-reliable as well as quick. In 24 trips to and from Osaka and Kobe during our time there, our Shinkansen was late just once, and by only two minutes. There were profuse apologies over the tannoy on the train and at the station.
Inside, every Shinkansen is wonderfully air-conditioned, with great Wi-Fi, comfortable seats that recline like airline seats but all with first-class quality leg room. When you get off one that terminates at a station, there's an army of cleaners ready to board but this being Japan, there's really not much to clean.
There is a catering service on the Shinkansen but the tradition in Japan if you're on a lengthy trip is to buy an ekiben – eki is station and ben is for Bento, the Japanese lunchbox.
At any one of the many outlets at the stations you get a laptop sized ekiben which will have the various foodstuffs arranged into sections. There's always rice and some sort of omelette – the Japanese have egg with everything, it seems – but there are vegan options all the way up to the inevitable squid guts or octopus for the adventurous.
You can get snack ekiben for 300 yen (about £2.20) but the standard is Busai at 850 yen (about £6.50), which will have chicken and pork, and is supposed to represent the traditional home-cooked Japanese meal.
And of course, they're designed to fit perfectly on the tray tables on the Shinkansen so they don't get dislodged while you're tucking in. Not that these magnificent trains rattle much anyway.