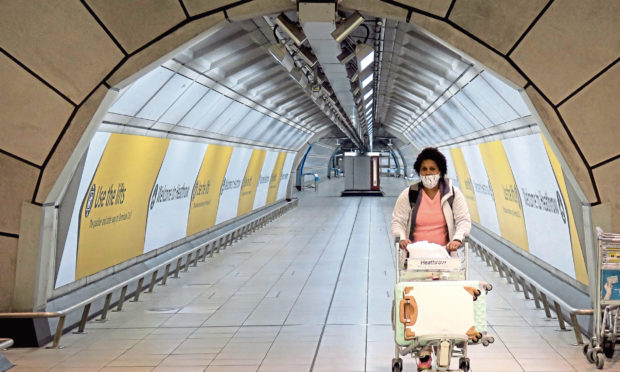 There is an online poll being conducted by this newspaper which asks one simple question: "If allowed to travel on holiday this year, will you?"
At the time of writing, some 34.8% of respondents had answered "Yes, as soon as it's safe, I'm looking to get away", while 65.2% said "Forget it, I'm looking at 2021 now".
So, I find myself in a significant minority among fellow Courier readers. On other, perhaps more political, issues this wouldn't surprise me, but I was taken aback by the divide between the so-called coronavirus hawks – those in favour of a speedy easing of the lockdown – and the far more tentative doves.
It would be interesting to see details of the ages and gender of those who have taken part but I expect there would be surprises there too.
I base my growing impatience over the Covid restrictions on the statistical evidence that I am relatively unlikely to die of the virus and therefore am no more afraid of it than, say, cancer.
But it's not as straightforward as that for everyone. Some of the most vulnerable in the population are not natural isolators – take Joan Bakewell, aged 87, who admitted on live television the other day to breaking the rules by having a friend round for coffee in her garden.
Boris Johnson's government should stop treating the elderly like "a crazy old people's club" and let them work out how to keep safe from coronavirus themselves, she said.
On the other hand, I have younger friends who have not left their homes in seven weeks, except to empty the bins.
If there was a correlation between attitude towards the pandemic and personal risk, then the vast majority of Britons would be clamouring for a return to normal life, as soon as was safely possible.
Of course, none of us know for sure when it will be safe so we have to take a chance, but for most people that should not be frightening.
This disease does not strike at the very young, and for most of those at pre-pensionable age, provided they are not already ill, it is not a killer.
The exceptions, as we have seen too clearly, have underlying conditions or are subjected to a viral overload in frontline NHS jobs or other public facing roles.
The prime minister, slower to social distance than most of us, may have been such a victim.
But for the vast majority, our cars present a potentially greater danger than the coronavirus.
According to the Cambridge statistician Professor Sir David Spiegelhalter, if you get the virus, your chance of dying is roughly the same as it would have been this year anyway.
"And if you're not worried about dying this year, you shouldn't be so worried about getting the virus," he said on the Today programme.
However, people are worried, and particularly in Britain.
A recent survey by Mori found that 70% of voters – the highest number out of 14 nations polled – wanted businesses to remain closed unless the virus was 'fully contained', an almost unachievable goal.
This is despite the economic fallout of a continued shutdown. The government's job retention scheme, for instance, cost £8 billion between April 20 when it was launched and May 3, with 6.3 million jobs furloughed and 800,000 employers furloughing.
Then there are the less countable costs, as articulated by the leading oncologist Professor Karol Sikora, who warns that cancer and cardio patients are "being thrown under the bus at the moment" while the NHS focuses on Covid-19.
Sikora has been dubbed the "positive professor" for his upbeat Tweets and his views on lifting the lockdown, the quicker the better: "Let the virus circulate and look at the incidence," he suggests.
He is brave. The polarisation of opinion over our coronavirus exit strategy has acquired political overtones; it is a choice, some claim, between the economy and lives, the right and the left, Westminster and the Scottish Government.
This is nonsense – confounded by the likes of Sikora alone – but there is, if nothing more concrete yet, an atmosphere developing between the would-be Covid breakers and the masked, self-imprisoning masses.
A few weeks ago, I mentioned in this column how Sweden had taken a different approach by keeping its bars and businesses open.
Although I neither condoned nor condemned the liberal Scandinavians, people got irrationally cross.
The pandemic, in the early days, had seemed to put an end to the fighting, to the years of partisan divisiveness, in Scotland and in the UK, over Scottish independence and Brexit.
We were all in this much more serious crisis together.
Now we are beginning to emerge from the worst, we are taking sides again.
This is both predictable and petty but, on balance, entirely healthy.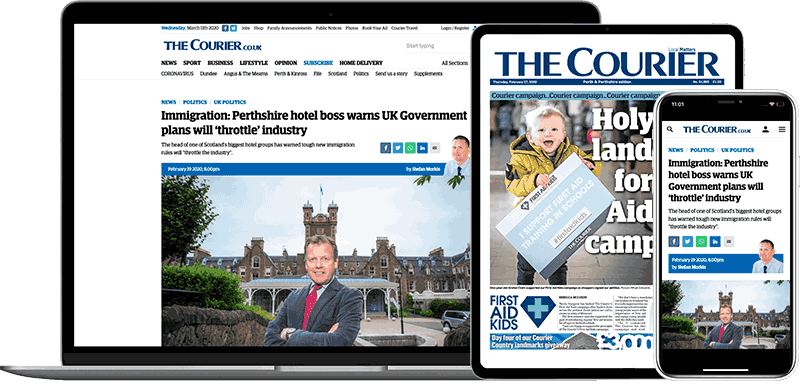 Support The Courier today.
The Courier is committed to delivering quality content to our communities and right now that's more important than ever — which is why our key content is free. However, you can support us and access premium content by subscribing to The Courier from just £5.99 a month. Because Local Matters.
Subscribe