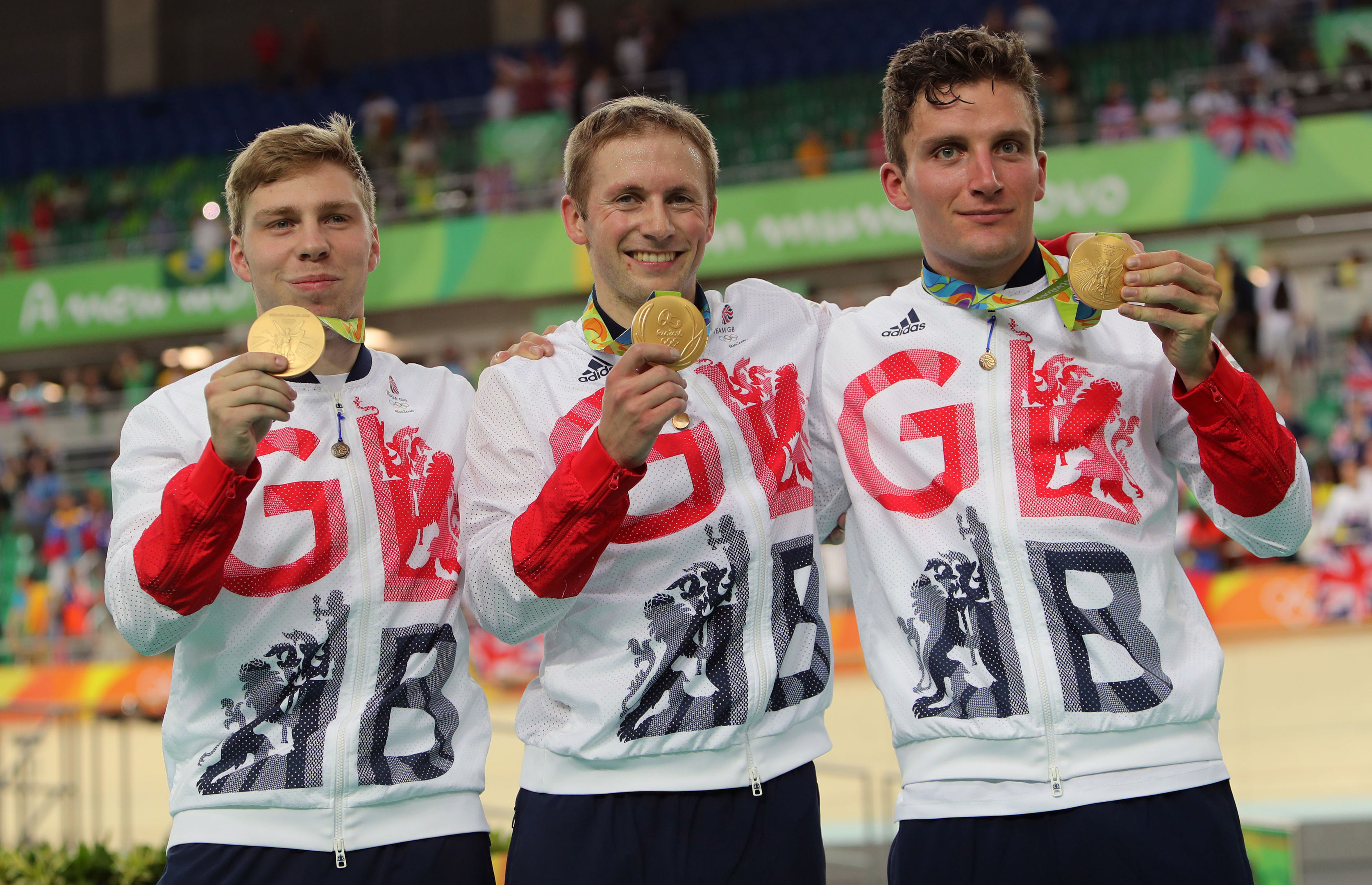 Jason Kenny expressed disbelief after Great Britain came from nowhere to win a third successive Olympic gold in the men's team sprint.
Britain's three-man, three-lap team sprint squad have a habit of peaking every four years and did so again as Kenny claimed his fourth Olympic gold.
The British trio clocked 42.440 seconds, an Olympic record, to top the podium, just five months after finishing sixth at the Track World Championships in London.
New Zealand's Ethan Mitchell, Sam Webster and Ed Dawkins, the world champions, had to settle for silver in 42.542secs, just 0.102s behind. Bronze went to France in 43.143.
Asked what aspect of the performance was surprising, Kenny said: "All of it to be honest. We've been going quite well in training. We had a rough idea what we could do.
"We surpassed that in the first ride with the Olympic record. At that point I thought we could get away with it, like we did in London.
"New Zealand came back at us in the second round and set the benchmark.
"We went into the final with nothing to lose. We were the second qualifiers, left it all on the track and unbelievably it was enough."
Britain's men's team sprint have not won a world title since 2005, but have claimed top honours at the 2008, 2012 and now 2016 Olympics.
"It's bizarre," Kenny added.
"We get a chance to win the worlds every single year and we get a chance to win the Olympics every four.
"We can't win a bloody worlds to save our lives, but we can win the Olympics every time."
Britain claimed a shock victory four years ago to win as Sir Chris Hoy claimedthe fifth of his six Olympic golds.
And they repeated the trick after finishing a lowly sixth at March's Track World Championships in London, despite Hoy having since retired.
The issue between Beijing and London was replacing specialist starter Jamie Staff. They did so just in time as Hindes emerged.
Hoy's retirement also created a void which Kian Emadi and Matt Crampton tried to fill. Skinner was the man Britain's coaches stuck with, seeing potential in the Scot which has now been realised.
Hindes, Kenny – champions with Hoy four years ago – and Skinner set an Olympic record in qualifying, but the standard was overtaken by New Zealand in the first round.
And the British trio won the duel for gold. Hindes was narrowly behind after his lap, but Kenny pushed the team in front and Skinner held on.
A change of strategy was a big part of the transformation, with Hindes riding a bigger gear to slow him down and allow Kenny and, in particular, Skinner to keep pace.
Hoy watched on from his position as a BBC pundit and caught the eye of Skinner, Kenny and Hindes when they stepped on to the podium.
The 23-year-old Skinner, from Glasgow, said: "It's a flattering comparison. I'm just out there to do my best and make a name for myself.
"We set an Olympic record in the final and beat the world champions. It was just incredible. There's no better way to win it."
Kenny next competes in the sprint, which begins on Friday and takes place over three days.
The 28-year-old from Bolton said: "I'm just enjoying this one for now.
"The team event is always the best. You get to win it with your mates.
"It's a bit lonely winning on your own to be honest."
Hindes said: "If he wins another two gold medals, he should get a knighthood."