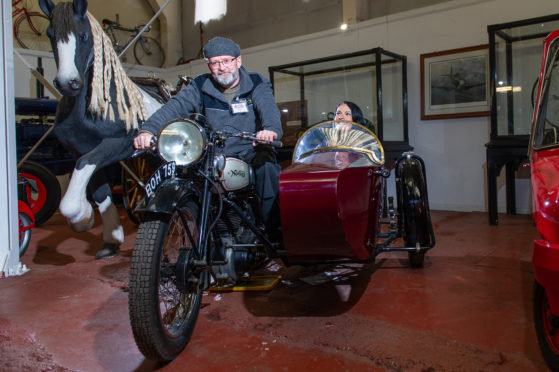 Love vintage vehicles? Gayle goes down motoring memory lane at Dundee Museum of Transport and meets a group of petrolheads who volunteer at the facility…
Sitting at the wheel of the cramped Scamp – one of the first electric cars ever made – I feel as if I've driven into a Noddy cartoon.
Designed and built in Prestwick in 1967, this bug-eyed beauty had a top speed of 36mph and a range of 18 miles.
It was never going to be a great success, hence, only 12 models were ever produced.
Despite it being a damp squib, the Scamp brings a huge grin to my face – and to those of thousands of folk who flock to Dundee Museum of Transport to ooh and aah over it and many other weird and wonderful vehicles on display.
This is my first trip to the museum and I'm meeting a group of volunteers mad about motoring who do everything from carrying out restoration work on vintage cars to working in the cafe and conducting guided tours.
Chris Rose, 62, a retired rail engineer from Perth, is leading my tour.
"I didn't want to just sit on the couch when I retired and this place is fantastic to be in!" he says.
"I do a bit of tinkering; things are always needing done. I'm especially excited about a Triumph Herald from the 1950s we're working on. It was a total wreck.
"The plan is to restore it and have it as an educational exhibit so people can see what's underneath a car's body.
"You'll be able to see the brakes, engine and suspension – how it all works."
Without further ado, Ken Farquhar, 73, hands me a spanner and invites me to get stuck in by tightening a loose bolt.
Retired engineer Ken, from Glenfarg, has always been interested in cars and wanted to lend his support to the museum.
"I come here once a week and do what I can to help out," he says.
"We all think of ourselves as young laddies when we're working on old cars!"
Ali Grant, 71, a retired engineer from Carnoustie, is another regular volunteer, as is Ian Innes, 72, a retired ambulance service officer from Dundee.
"We do everything from front of house work to maintenance and guiding," says Ian.
"It's a really friendly place and it's wonderful to be among all these vintage vehicles."
Once I've showed the guys just how little I know about piston rods, crankshafts and carburettors, we wander through the museum's four exhibition halls.
There's a bamboo-framed replica of local aviation pioneer Preston Watson's early "flying machine", a Ford Model T from 1915 with wooden spokes and no front brakes, a 1953 fire engine, an old Dundee bus and a replica of Chitty Chitty Bang Bang, the car that inspired one of the greatest kids' movies.
The museum also houses Dundee's last horse-drawn tram, having been recovered from a garden in Perth where it was used as a summer house.
There's also a room with a moving video which tells the story of the Tay Bridge disaster and boasts an original cast iron column which failed and broke off.
Those into model railways have a room just for them, too, while the main hall is dedicated to "boy racer" style cars, plus there's an Mk3 Fiesta driven from John o'Groats to Siberia in last year's Mongol Rally!
"The mud on the outside has been removed, although you can still see the dust of the Gobi Desert on the dashboard!" points out museum staff member Euan Derrick.
Certainly, every exhibit has a fascinating history; you're guaranteed to leave full of new-found knowledge whether you're into cars, buses, trains, planes or trams!
The museum has 49 active volunteers, some of whom are retired bus, lorry and taxi drivers (and mad about motoring) but it's always looking for more folk to help out.
"Right now, we need volunteers for the main desk and cafe, to help with visitor enquiries and to do a bit of cleaning," says Euan.
"Our aim is to preserve the transport heritage of Dundee and beyond."
info
Dundee Museum of Transport opened at Market Mews in 2014. It tells the stories of local transport pioneers and innovators as well as displaying vehicles from local and national collections. It hosts regular talks and events, including National Drive-It Day on April 28, a truck extravaganza on May 19 and a bus and coach day on June 16. For more information, and to find out how to become a volunteer, see dmoft.co.uk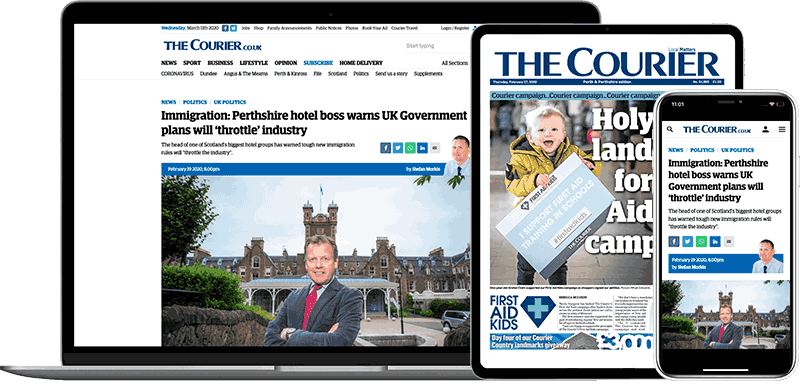 Help support quality local journalism … become a digital subscriber to The Courier
For as little as £5.99 a month you can access all of our content, including Premium articles.
Subscribe