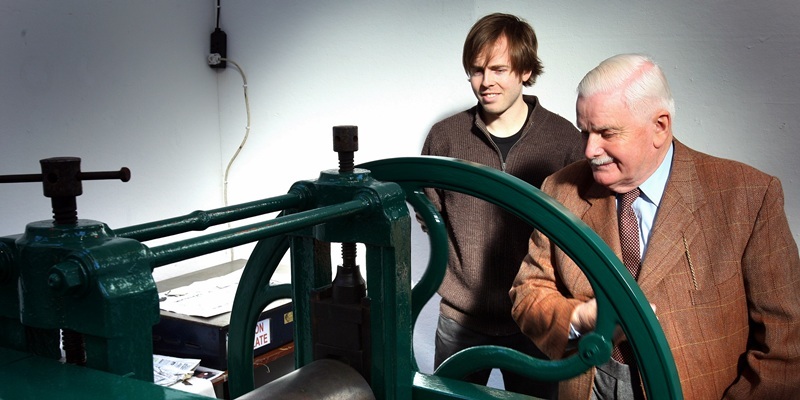 A new print studio opened at Hospitalfield in Arbroath as an extra site for artists and printmakers.
The Kinpurnie Print Studio was officially opened by benefactor Sir James Cayzer, who turned the wheel on the press to produce the first print an image of Hospitalfield by Robert Jackson.
The studio, in what was once Patrick Allan-Fraser's dog kennels, has been refurbished over the last six months in association with Dundee Contemporary Arts Print Studio.
It houses Hospitalfield's recently restored etching press and a screen printing facility, with expectations of a litho press soon.
First users will be those signing up for a new series of residential masterclasses with specialist tutors in printmaking and woodcut printmaking, and there are also plans to set up a community facility for local artists who would pay an annual membership fee to cover training and use of the studio.
Hospitalfield director Willie Payne said, "We are delighted to be able to operate a programme with partners DCA and grateful for all the help we have received in creating the Kinpurnie Print Studio.
"This will be a valuable addition to the studio facilities here, especially as it complements our excellent historic print collection and re-introduces a medium which was an important part of the programme here 100 years ago."
Joining Sir James at the opening ceremony was DCA print studio director Annis Fitzhugh, a number of Hospitalfield trustees and members of the board's arts advisory group.