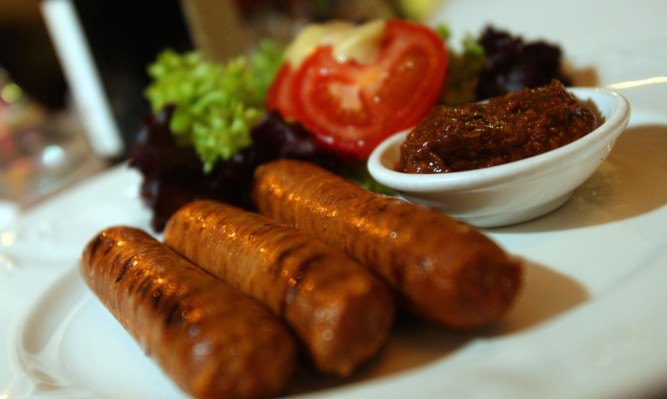 If you go looking for a simple French bistro like Caf Montmartre in the actual Montmartre, chances are you're going to be disappointed.
Topped by the Sacr Cur, this area of Paris is a magnet for tourists and the restaurants hike the prices (while not necessarily increasing the standards) accordingly. Cupar's Caf Montmartre is more like the kind of place that you stumble upon in a provincial French town. Honest, traditional fare done well for a loyal clientle.
It's been on travels of its own. In the mid 90s, husband and wife team Thierry and Anne Haddanou opened a previous incarnation of Caf Montmartre in Broughty Ferry. Five years or so ago family commitments took them to Aberdeen and the caf went with them. Since the summer, Caf Montmartre has been in the site of the old Cafe Moka in Cupar.
It's a clich, but we could smell garlic in the air as we ventured up the close that took us to the cafe. A welcoming, warm room, owner Thierry was on hand with a genial greeting and we could see his wife Anne beavering away in the kitchen. The great and the good of French stage, screen and page (Hallyday/Depardieu/Sartre and the like) peered down at us from clipframes on the whitewashed walls and we mulled the menu.
There's a good-looking early evening menu (two courses £15.95) but we went for the a la carte.
I haven't eaten foie gras since an epic 10-course meal in a restaurant in Alsace with foie gras in every dish (including dessert). My dining partner had no such traumatic memory and went for it as a starter (£7.95). Force-feeding geese is rare round these parts so it's imported from France. A pleasant fig chutney with a low-key sweetness matched the foie gras well. A brioche and a peppery salad completed the plate.
I went with a trio of wonderfully dense little merguez sausages (£6.95). Homemade, these grilled lamb sausages were full of spice, given even more fire with a side of harissa. A simple tomato and frisee salad cooled the heat. Ordering wine by the glass, we enjoyed a couple of 250ml servings of creamy Pinot Grigio (£7.50) with our starters. Another two of decent house red (£3.35) followed.
Moving on to the mains my partner went with a generous saddle of rabbit which had been marinated and slow-cooked to a delicate tenderness. It was piled atop mushrooms and carrots and ladled with a creamy wine and mustard sauce. Grilled whole cherry tomatoes burst with flavour and a fistful of watercress was useful for mopping everything up. Apparently they can't get rabbit in the UK so these were imported from France too.
For my main I went with a hearty confit of duck (£15.95) which shared a plate with flageolet beans, carrots and leeks. Personally I prefer my confit a little crispier and the sauce was a touch too sweet for me but this was a tasty rib-sticking dish for a cold winter night. An excellent side of vegetables (Parisienne/balled potatoes, carrots and green beans) came with the mains and was more than ample.
A crme brulee (£5.75) with crispy little langues de chat biscuit and a sharp raspberry coulis was faultless and a quartet of hard and soft French cheese (£7.25) sent Thierry our host into raptures of description.
Caf Montmartre is a fantastic addition to Fife's restaurant scene and a worthy competitor to the St Andrews tourist traps.
Rating: 40/50
Price: Starters £5.25 to £9.95, mains £15.95 to £24.95.
Info: www.cafemontmartre.co.uk