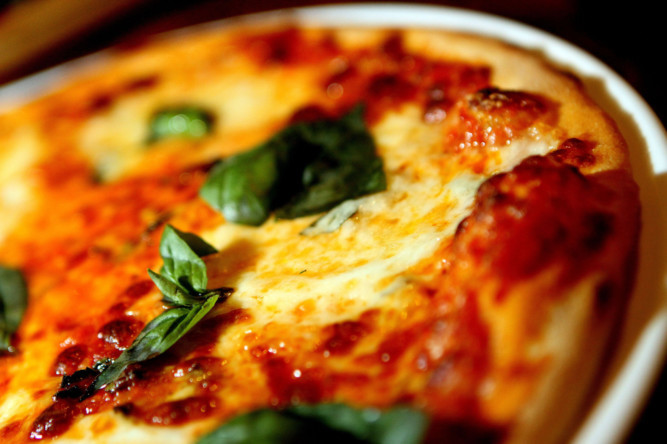 For years I have longed for a decent pizza restaurant in Dundee, so you can imagine my excitement when True Pizza arrived.
With its promises of fresh ingredients, crispy bases and delicious cocktails right on my doorstep, I could barely wait to give it a try.
As it turned out, months went by before I finally got a night off and booked a table for my birthday dinner.
Accompanied by my two favourite ladies my best friend and my mum we started the night by ordering a bottle of prosecco.
We opted for the medium-priced bubbly which was the perfect accompaniment to the delicious meal ahead.
The vegetable sharing board was an obvious starter for a group of vegetarians and it certainly had the wow factor.
The olives were the largest and tastiest I've ever had and the centrepiece artichoke was as delicious as it was impressive. We were advised by the helpful and friendly waiter that a board for one would be ample for my mum and I to share. And he was right.
My friend chose the crispy risotto balls and kindly offered me a taste. I'd recently had this dish at another Dundee cafe but the True Pizza version was truly delicious.
Really crispy on the outside, oozing with cheesy deliciousness inside and smothered in zingy tomato sauce I will be ordering them for myself next time.
The assortment of marinated vegetables, breads and pesto on the veg board was light and flavoursome, leaving plenty of room for the pizza I'd been dreaming about for months. And I was not disappointed.
I chose the simple but effective flavours of the margherita while my mum opted for the more adventurous toppings of anchovies, capers and olives (£10).
With a crisp tasty base, lashings of tangy tomato sauce and a good selection of toppings all finished off with quality mozzarella, I couldn't have done it better myself. Although I was told they were a little heavy on the "hairy fish" for my mum's liking.
The pizzas are the perfect size big enough to satisfy your craving but not so huge as to prevent you having room for a pudding.
For dessert I chose the brioche bread and butter pudding. I didn't think this had much of a chance of even coming close to my mum's version of this but I was pleasantly surprised.
It was light, yummy and not too sweet and, despite the giant portion, I ate the lot. And don't tell Mum, but it came pretty close to hers.
My friend had the lemon sorbet as she's not quite the glutton I am and was very happy with it.
Mum ordered the panna cotta and after a mouthful of that too, I can verify that it was delicious.
But we weren't finished yet.
With a tiny bit of space left to fill we ordered coffees and liquers.
I'd "accidently" let it slip that it was my birthday, so the lovely people at True Pizza gave me my Tia Maria on the house.
True Pizza has a relaxed yet professional atmosphere where you feel in no rush to leave or free up the table you can stay on for a few drinks in the lively and friendly atmosphere.
The menu looks limited at first glance, and it could perhaps benefit from more pizza topping choices, but all the dishes are well chosen to provide a good variety while keeping the standards high. I prefer a restaurant that does a limited range of dishes really well rather than a long list of everything they can think of pulled straight from the freezer.
And that's what True Pizza does so well: simple, classic flavours fused perfectly with a passion for freshness and quality.
With the affiliated Jam Jar cocktail bar now open next door and an updated menu, I'll be back for another visit soon!
Rating: 40/50
Price: Starters from £5.50 to £8, mains from £8 to £15
Info: True Pizza 2 Whitehall Crescent Dundee t: 01382 225023 w: www.facebook.com/truepizzaco