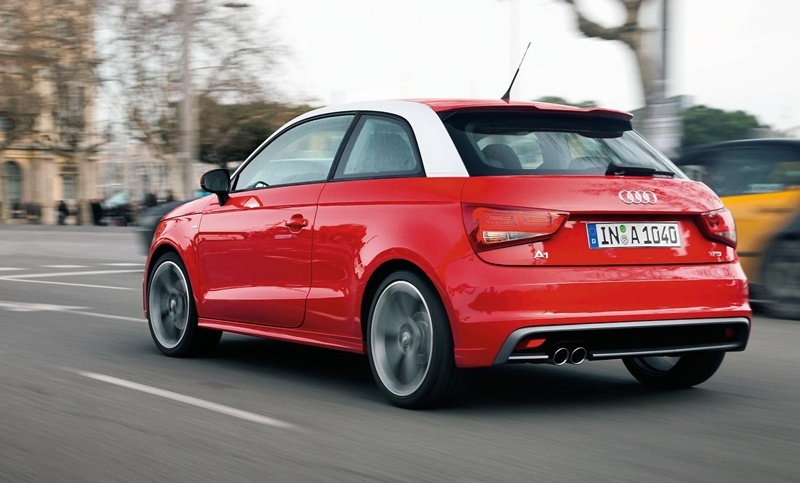 Not very long ago a car like the Audi A1 would have seemed faintly absurd. A supermini based on the humble VW Polo that starts at well over £13,000 and can cost more than £20,000 would not have been high on anyone's shopping list.
But times have changed and a lot of people, especially young professionals and city dwellers, are now demanding small cars with some of the technology, prestige and luxury expected in bigger executive cars.
This is where the baby Audi makes much more sense. Most reviewers will tell you Audi do the best interiors in the (mainstream) motoring business, and the A1 maintains the brand's quality.
The interior is a cut above that offered by pretty much any other car this size (with the possible exceptions of the also-not-cheap Mini and Citroen DS3) with a smart, if dark, colour scheme, well laid out controls and nice touches like chrome-edged heating dials. It all feels reassuringly expensive and is a little like being in a shrink-wrapped A4.
I drove the 1.6 litre TDI sport, which retails at £15,675. While that's an expensive cover price, buyers can be reassured by some comforting statistics its official fuel consumption figure is 70.6mpg and, thanks to its low emissions, it'll cost just £35 a year in road tax.
On the motorway, a long fifth gear keeps revs low and fuel economy high, while around town a stop-start system ensures you don't waste precious fuel idling at the lights.
As well as the 105hp diesel, there are 1.2 (86hp) and 1.4 litre (122hp) turbocharged petrol units.QuietAlthough it's based on the Polo, Audi have put a lot of work into the A1, putting in enough sound insulation to make even the diesel version whisper quiet.
It rides very comfortably and for such a small car it's a fine cruiser, eating up motorway miles with ease as long as you're in the front seat at least, as rear leg and headroom isn't great. At 270 litres the boot is decently roomy for this class of car, though the Fiesta offers 25 litres more.
While it soaks up bumps well, the suspension is also firm enough to make the A1's handling very capable indeed. It's not quite in the go-kart territory occupied by the Mini, but nonetheless it's good fun.
It should also be one of the safest small cars you can buy. As well as ABS and six airbags, there's stability control and an electronic rear differential to help you safely round corners if you enter them a little too quickly.
My test car came loaded up with enough extras to send its price soaring through the £19,000 barrier. Most of these are unnecessary expenses, none more so than the 17″ wheels which cost £560 and have a negative impact on both ride quality and road noise levels.
The A1 is expensive but quality, particularly the interior, is a cut above what you'd expect in the supermini sector, it rides like a car a size bigger and it's a very smart-looking little creature.
Price: £15, 675.0-62mph: 10.5sec.Top speed: 118mph. Economy: 70.6mpg. CO2 emissions: 105g/km.