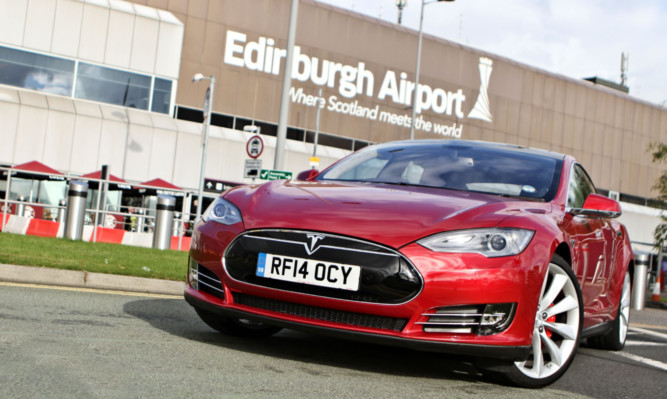 The electric car maker Tesla has opened its first supercharger at a UK airport in Edinburgh.
The Supercharger station has two bays and is near the short stay carpark and drop-off lane.
Owners of the snazzy, high-end electric vehicles simply drive up, press a button for access, then plug in. Like all Tesla Superchargers it is entirely free to use.
Just don't get any ideas about plugging in your car then jetting off for a fortnight in the sun and enjoying free parking there's a one-hour time limit on each charger.
Given that 20 minutes is enough to take the car up to 50% charge and that a full battery can be good for between 200 and 300 miles, that ought to be sufficient, however.
* VIDEO: Electric dreams come true with Tesla Model S
Quite remarkably, Edinburgh was chosen ahead of much larger facilities such as Heathrow for the site of Tesla's first airport site.
It's part of a network expansion that will soon allow Tesla owners to drive anywhere in the UK, filling up for free at Superchargers.
The Tesla model S has begun something of a revolution in electric cars. For the first time, range is not a big issue it will do upwards of 250 miles on a single charge.
It does cost £49,900 for the cheapest model but Tesla does have a smaller and cheaper saloon car coming out, as well as an SUV model.
"We're really pleased to open our first Scottish Supercharger," said Georg Ell, Tesla's UK Country Director. "The location makes travel in and around Edinburgh easy and also enables a route from Edinburgh to both Glasgow and Stirling and beyond. It's an exciting time for Tesla in Scotland. There are plans for an Edinburgh store and service centre next year."
Gordon Dewar, chief executive of Edinburgh Airport, said: "It's great that Edinburgh Airport is now home to Scotland's first Tesla Supercharger, which will provide convenient service for Tesla owners when they arrive and depart."