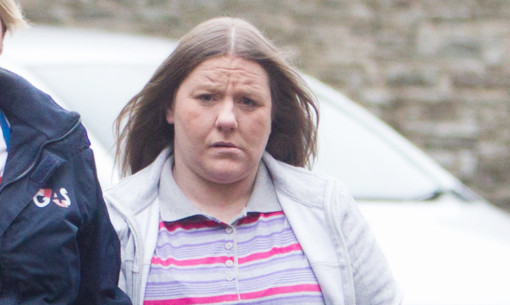 A woman who extorted and stole money from vulnerable pensioners in Forfar was jailed for 33 months at the town's sheriff court.
Michelle Carnegie, 33, of Cornton Vale Prison, admitted charges involving three men aged in their sixties and seventies.
She extorted more than £1,000 from a 66-year-old man in Forfar, claiming that she would go to the police and make false allegations against him unless he handed over money in August 2014.
Depute fiscal Joanne Smith said that Carnegie had approached the man near his house and asked him if there was somewhere nearby that she could use a toilet.
"The man offered her the use of his toilet and after she had used the bathroom she offered him sex," she told the court.
"He agreed and afterwards he gave the accused £80 and she left.
"A couple of weeks later she approached him and said that she was pregnant and needed money for an abortion.
"On being told that he didn't have the money, she said she would go to the police and claim she had been raped.
"The complainer met the accused on several occasions and gave her a sum not less than £1,000. He then said he couldn't pay her any more money and she said there were newspapers waiting to hear her story. He then went to the police."
Carnegie admitted stealing £60 from a 76-year-old man in Forfar in September 2014 and £500 from him a year later.
The depute fiscal said Carnegie walked into the home of the 76-year-old who was an acquaintance and asked for money.
Despite being told by the man that he did not have any money, Carnegie searched his room and found £60 in a vase.
A year later the man withdrew £500 from his pension and the accused came to his house asking for a cup of tea, which meant she was left alone in the living room.
"Two days later he discovered the money was gone from a jar."
Carnegie admitted stealing £300 from the home of a 69-year-old man in the town, after she had witnessed him withdrawing the sum from a bank in July 2015.
She followed him to a supermarket and then his home, where she offered to help unpack his bags.
The depute fiscal said the man is extremely hard of hearing and also struggles with his vision.
She told the court that when the man went to his bedroom to get a new battery for his hearing aid Carnegie stole the money.
Carnegie also admitted that between August 1 and October 7 last year she assaulted a woman by punching her on the head, causing her to fall to the ground and repeatedly kicking her on the head.
Defence agent Billy Rennie said his client had suffered traumatic experiences in her life which had "coloured her judgement and affected her behaviour".
He added: "Heroin has been a feature throughout all of this".
As well as the 33-month sentence Sheriff Pino Di Emidio also imposed a supervised release order to last for 12 months after Carnegie's release from prison and ordered that she undertake a substance misuse programme.