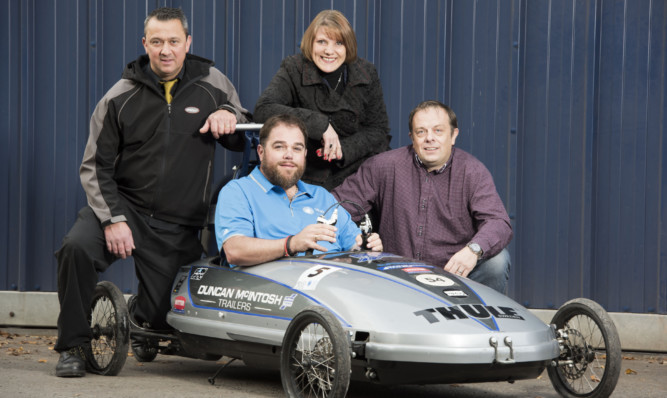 Soapbox speedsters have upped the ante for this weekend's Brechin cartie race spectacular.
BRAVO Brechin organisers of Saturday's event have already scrutineered a bumper field of more than 30 carties which will blast down the kilometre-long course from the town centre to the edge of the River South Esk, and say spectators are in for a treat.
The High Street racing has established itself as a major date on the town calendar, attracting thousands of spectators keen to see all manner of machines hurtling down the fast course, with a couple of tricky bends ready to offer thrills and spills.
Although the emphasis is firmly on fun, the Brechin challenge is the only opportunity Scottish cartie championship contenders have to run their soapboxes down a closed-off town centre course and they have grasped it with relish.
BRAVO Brechin's Gavin Brymer said: "The carties just keep getting better and better and the standard of the racers is fantastic this year.
"Some of these machines are very technically advanced and I think we'll see some very fast times on Saturday."
https://youtube.com/watch?v=G23kgUxEkL8%3Frel%3D0
Alongside the sleek, hi-tech carts, quirky designs and fancy dress will feature heavily, with even the ever- popular Minions among a field coming from across the UK to take part.
A big screen near the top of the course will relay footage and live times to the crowd gathered there to add to the excitement of the event.
"For the first time we also have two speed traps on the fastest points on the course and spectators will be able to keep up with those," added Mr Brymer.
"It's all about fun but we think all of that will add to the atmosphere as the racers complete their set number of runs."
Practice runs get under way at 10am, with the flag due to drop for the first race at noon.
Entertainment including a funfair has also been lined up at Brechin leisure centre close to the finish and, ahead of the High Street awards presentation at the end of the afternoon, the racing will be capped off with a 4pm performance by a group of English Morris dancers who are on a tour of the north east.
Mr Brymer said: "Everything is in place, but we would welcome any additional volunteer help in setting up the course from 6pm on Friday evening."