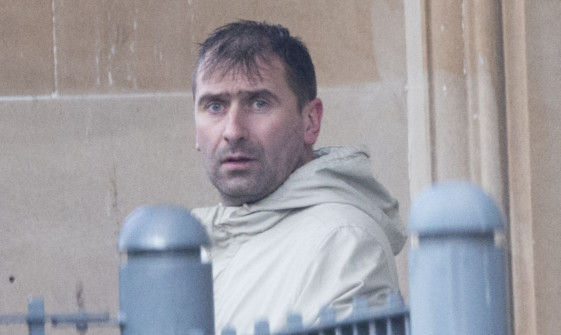 A Dundee man who brandished a knife at thugs who threatened his pregnant sister said he did not fear jail because he was certain of his innocence.
Matthew McLaughlan, 30, picked up the weapon as he tried to prevent a gang of youths from harassing his sister Nicole Collins in May.
Four months ago Nicole gave birth to a baby girl called Alisha but it is feared the child suffered brain injuries after her mum was punched and kicked during the fracas.
Both mum and baby were readmitted to Ninewells Hospital four weeks ago and remain in a serious condition.
"They are still in hospital and Alisha is having to be fed through a tube," Mr McLaughlan said.
"We all had to move away fromMalcolm Street because there was just too much hassle (from the gang).
"What's done has been done. We just want to get on with things."
Mr McLaughlan pleaded guilty to charges of possessing a knife and a breach of the peace but was admonished at Dundee Sheriff Court on Wednesday.
The court had heard how up to 30 drunken youths had terrorised Mr McLaughlan's family at their home.
When he tried to rescue his sister, he was chased into a close where one of the gang members dropped the knife.
Mr McLaughlan picked it up and waved it at shoulder height out of the door of the close to scare off the thugs.
He told The Courier he had always believed the courts would understand his actions.
"I just wanted to get it over and done with," he said.
"I always knew I was innocent."
Mr McLaughlan was born in Dundee but was living in Eastbourne until last year.
His mother and sister had moved back before him and had already had trouble with the gang, who he said congregate in the Malcolm Street area.
"It's not the lads so much as the girls," he said.
"You get people smoking drugs and young girls urinating in the close. When you tell them to get out they just start getting mouthy.
"When I first moved up they were being mouthy to my mum and got more threatening from that."
In Scots Law, when someone is admonished they are guilty of an offence but are not imprisoned or fined as, although a crime has technically been committed, no real wrong has been done.
Admonishing Mr McLaughlan,Sheriff Alastair Brown said he and his sister had been threatened by "a riotous mob of evilly disposed persons".