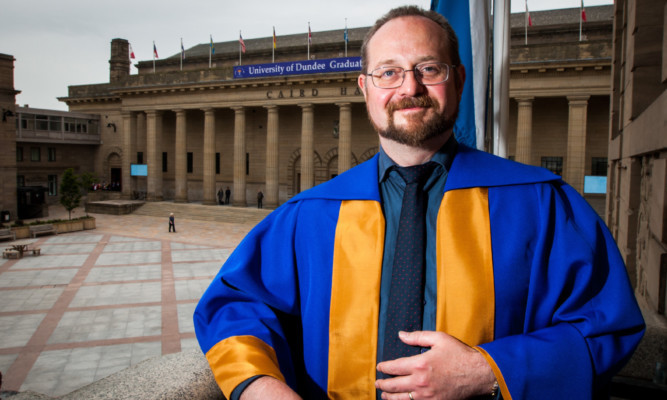 When Stuart MacBride was waiting to ship his first Scottish crime novel a decade ago, his laser printer broke and, at the very least, he hoped the advance from his publisher would cover the cost of a new one.
Fast forward 10 years, and as his 10th instalment featuring the laconic detective sergeant Logan McRae prepares to hit the shelves, the now successful novelist is more worried about whether his new book will continue a long and successful run of reaching the top of the British book charts.
"It's not so much about making a rod for my own back, but that's five years in a row I've made the top of the Sunday Times bestseller list," he says.
"I've been very lucky, but I'm waiting for it all to collapse! "he laughs with a wry sense of humour.
To mark the launch of his new book In the Cold Dark Ground, MacBride, 46, will be in Dundee and Perth on Wednesday January 13 for a book signing at 12.30pm in Waterstones Dundee and a book signing and talk at 6.30pm in Waterstones Perth.
Since the first instalment, Cold Granite, was published in 2005, each tale, set in his home city of Aberdeen, has been defined by gritty urbanism, tightly coiled plots and McRae's dark humour.
He consciously sets his books in Aberdeen and Aberdeenshire.
"You can make fun of your own town. You can't go down and do that to a place you don't know!" he adds.
But it's to the City of Dundee that he owes a "career highlight" he was awarded an honorary doctorate by Dundee University last summer – and for that he is genuinely grateful.
"Dundee University had been raising money for a new teaching mortuary (the Million For A Morgue campaign)," he recalls.
"A bunch of crime writers got together to help with the project, headed up by the university's legendary Professor Sue Black.
"The public were asked to donate money to the campaign and to vote for which of the writers they would like the morgue to be named after. I didn't win. Val McDermid got the top prize and had the morgue named after her. But as runner-up, I got a dissecting room named after me! As far as I know that is unique! Dundee has been very good to me."
Born in Dumbarton, MacBride's family moved to Aberdeen when he was two. After an aborted attempt to study architecture at Heriot Watt University in Edinburgh and a stint working offshore, he ended up working in IT and it was whilst doing this that he wrote his first Logan McRae novel Cold Granite, moving him from a "grumpy project manager caterpillar to a writing butterfly".
He always loved crime fiction. As a youngster he became hooked on the Hardy Boys books from the school library, moving on to reading Dashiell Hammett's Red Harvest.
"That was a bit of a jump!" he admits.
But when it came to writing, it was the realism of the crime genre which attracted him most. He is fascinated by how people react when faced with situations involving desire, revenge and murder.
His books feature trademark pacy-plotting and it's this with the dark humour, along with multi-thread plots and terse writing style, that he says give his books more authenticity.
Having done extensive research with CID and other police officers in Aberdeenshire to prepare his books for realism, he has had feedback from serving police officers as far away as Canada, who have told him: "That is exactly what would have happened in that situation".
The latest novel sees Sergeant Logan McRae in trouble. His missing-persons investigation has just turned up a body in the woods naked, hands tied behind its back, and a bin bag duct-taped over its head. The Major Investigation Team charges up from Aberdeen, under the beady eye of Logan's ex-boss Detective Chief Inspector Steel. And, as usual, she wants him to do her job for her.
MacBride is ever grateful for the insight he was given into real policing during the research phase. But he says there is "no way in hell" he could do policing for real.
He adds: "Call me a big softie, but I wouldn't want to do a job where the first thing you have to do at work each day is strap on a stone's worth of equipment and stab-proof vest in case someone wants to kill you. That, or being a primary school teacher. It's a fine line!"
He is also doing his bit to protect the safety of German tourists who have brought an unlikely tourist boost to Aberdeen.
He adds: "German tourists, for some reason, they email to say, 'We are coming to Aberdeen to see all the places you talk about in your books'.
"I quickly reply and say, 'Don't'. When I say that place is dodgy, that means do not, under any circumstances, go there with your big camera!"
In the Cold Dark Ground, published by HarperFiction, is out on January 14 priced £16.99.