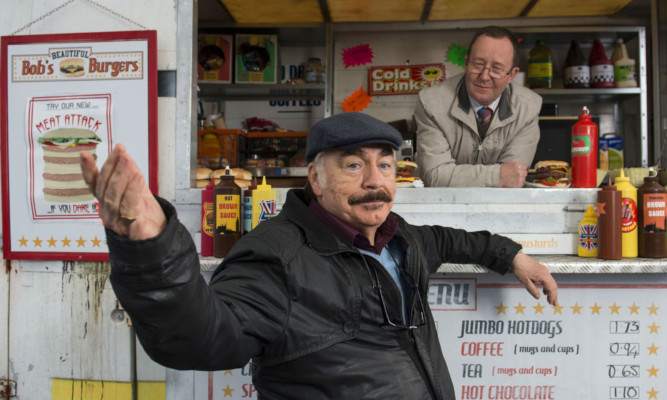 Sex, relationships, money and cheeseburgers Broughty Ferry's man with all the answers is to impart some of his wisdom to the public.
Bob Servant's latest book, Ask Bob: Your Guide to a Wonderful Life, promises to add value to your life, and no topic is too risky for the Broughty guru.
The man behind the mastermind, Neil Forsyth, will be taking Dundee's hero to the stage in his own Broughty Ferry for one night only.
Tickets for the show at the Gardyne Theatre on October 10 went on sale on Friday.
Bob's bumbling sidekick Frank (Jonathan Watson) has once again been roped in to do all the hard graft, but there are rumours of a few mystery guests also making an appearance.
Neil said: "We'll be doing readings and Jonathan will be helping to bring a lot of the book to life.
"We will also be doing a question and answer where members of the audience can get some advice.
"We will possibly be showing some deleted scenes from the TV series and there will be a few other surprises thrown in on the night.
"It's going to be great I'm really looking forward to it."
Copies of the book will also be available and Neil and Jonathan will be signing copies after the show.
Neil added: "It's kind of the definitive Bob Servant book.
"Bob started with me sending emails every Friday to some of my friends from Dundee.
"They were giving me their personal problems and I was giving them some particularly unhelpful solutions.
"It's been about nine years, so there's been quite a build-up in the ask Bob files.
"We've had people sending questions from all over the world.
"It is such a treasure trove that we just wanted to give Bob's views on every problem.
"There are some big themes. Relationships, family, money, business, life lessons and sex Bob doesn't shy away from the big issues."
This will be the third time the Gardyne has hosted a Bob Servant event and a second event will take place at Oran Mor in Glasgow on October 9.
To book a ticket contact the Box office on 01382 434 940.
Neil Forsyth's trilogy of Bob Servant humour books have become cult favourites, likened to the absurdist comedy of Peter Cook and Spike Milligan. The books have been adapted by Forsyth for both Radio Four and for BBC TV in the sitcom Bob Servant.
Forsyth currently writes for TV for the BBC and in the USA for Universal Studios and Dreamworks.
Ask Bob: Your Guide to a Wonderful Life by Bob Servant, edited by Neil Forsyth will be published by BBC Books on October 8 priced £9.99.