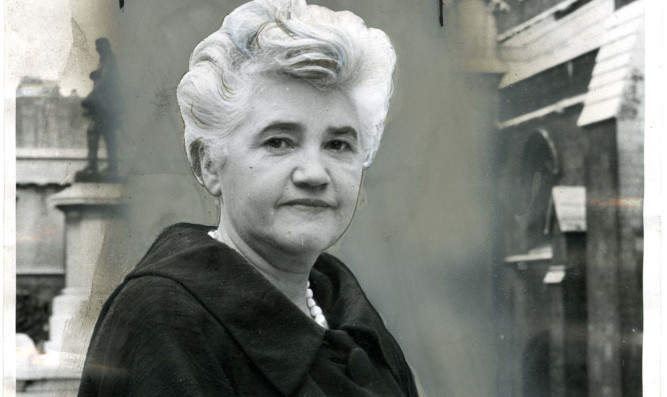 A series of events has been planned to pay tribute to one of Fife's "brightest and strongest" people, who was instrumental in making arts and education accessible to all.
Janet "Jennie" Lee was a coalminer's daughter from Lochgelly, steeped in the traditions of socialism.
Britain's youngest MP of the time, she went on to become the country's first Minister for the Arts.
It was her term of office that led to Jennie Lee, who had relied on scholarships to progress through university, drawing the blueprint for the future Open University.
Now, 50 years on from the publication of her white paper, A Policy for the Arts, The First Steps, Fife is about to celebrate its famous daughter.
She was born in Lochgelly on November 3 1904.
She became interested in politics at an early age, following in the footsteps of her grandfather, Michael, who helped establish the Fifeshire Federation of the Independent Labour Party (ILP), later chaired by Jennie's father James.
She took the only means open to her of continuing her studies, by attending Edinburgh University as a trainee teacher.
In 1927 she graduated with an MA, a teacher's diploma and a law degree and reluctantly embarked on a career in teaching, while keeping up her political life, becoming increasingly involved in the Scottish ILP circuit.
She stormed to victory as the ILP candidate for North Lanark in 1929 and found herself at 24, the youngest member of the Commons.
Two years later she was defeated in the Conservative landslide and did not return to the Commons until 1945 when she was elected MP for Cannock.
Following Labour's win in the 1964 general election she was appointed Minister for the Arts.
In March 1965, she was moved to the department of Education and Science and tasked with delivering the University of the Air.
Although she had personal experience of a conventional university she was also subject to other influences.
In 1965 she said Thomas Hardy's Jude the Obscure was one of the most formative books for her.
Her white paper stressed: "There can be no question of offering to students a makeshift project inferior in quality to other universities.
"That would defeat its whole purpose."In 1970, Jennie not only lost her ministerial position, but also her seat at Cannock in Labour's defeat.
Later she was made a life peer and took as her title Baroness Lee of Asheridge.
She died on November 16 1988, aged 84.
Her ashes were scattered on the same Welsh hillside as her husband's had been 28 years before.
On Saturday, Fife Cultural Trust is hosting Tea with Jennie Lee, a free event at the Lochgelly Centre, which houses the library named in her honour. Throughout the day it will offer a dynamic programme of activities.
A total of 16 local schools have prepared pieces of writing to be displayed.
Dr Daniel Wienbren, the author of The Open University: A History, will give a short talk about Jennie Lee, while Sheena Wellington, who performed at the opening of the Scottish Parliament in 1999, will sing.
In recognition of her work for the arts, Fife Youth Arts will provide taster sessions in different art forms, including makeup artistry, drama, digital skills, arial dance and singing.
Tea with Jennie Lee will be the first of many annual events in the lead up to the 50th anniversary of The Open University in 2021.
As such, Fife-based designers have prepared logos to be used for the series, and the public will get to decide which one is used.
Tea with Jennie Lee is free to all and starts at 2pm and runs until 6pm.