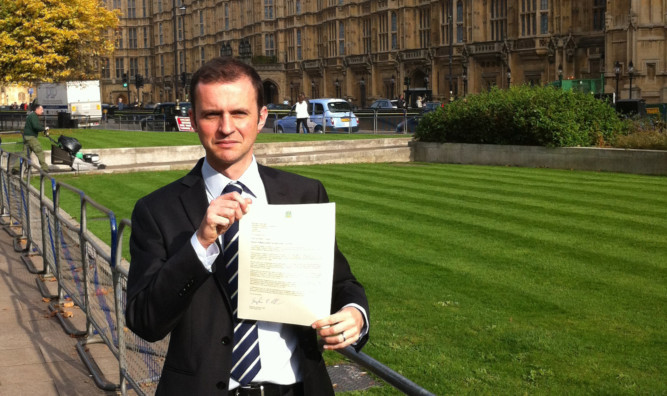 A Fife MP has written to the UK's defence secretary to push the case for military aircraft returning to the former RAF base at Leuchars.
Stephen Gethins, SNP MP for North East Fife, welcomed news in Tuesday's Courier that the Ministry of Defence (MoD) is thought to be considering relocating several maritime patrol aircraft (MPA) to the base and stressed it would make "good sense" for Leuchars to accommodate them, should the Government opt to go down that route.
Amid speculation that the MoD is seeking to buy up to nine US Boeing P-8 Poseidon aircraft to counter any threat posed by Russian submarines, Leuchars is rumoured to be one of the frontrunners to host the new squadron.
To that end, Mr Gethins has written to Michael Fallon ahead of the Strategic Defence Review to outline the case for the RAF's return to Fife.
He told The Courier: "The decision of the Liberal Democrat/Conservative coalition to close the RAF base at Leuchars and scrap our marine patrol aircraft capability was wrong.
"That capability is especially needed at a time when we need to protect and monitor our air space. RAF Leuchars is best located for that role."
In his letter, Mr Gethins described the facilities at Leuchars as "second to none" and again criticised the coalition's decision to scrap the MPA project.
He also suggested Mr Fallon would be aware of Leuchars' century-long association with the RAF, given that he had attended St Andrews University.
"There has been a significant impact on local businesses as a result of the decision to close the RAF base and the delay in the arrival of the army," he wrote.
"The Royal Scots Dragoons are very welcome in north-east Fife and it has been good to see them arrive at the newly named Waterloo Barracks.
"However, the facilities at the base for any potential return of the RAF remain excellent and you will understand the continued attachment of the local community to the RAF."
The MoD has remained tight-lipped on the claims, although it did say the forthcoming defence review "is considering the current and likely future national security risks and in turn the capabilities the armed services will need to address these risks in the future".