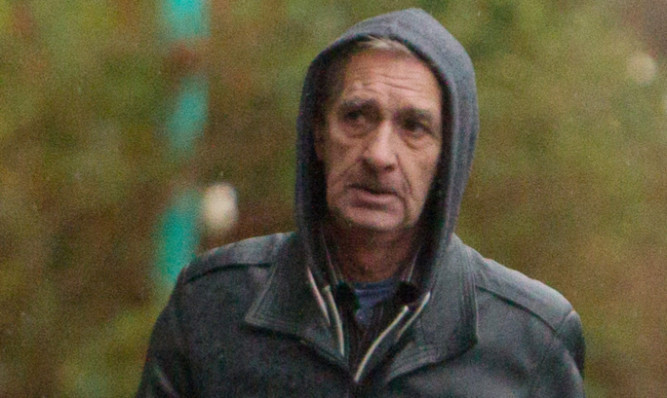 A sheriff has ordered a rottweiler's destruction following an Angus attack that left a man covered in blood.
Two-year-old Kai will be put down in a week following the Montrose incident unless its owner lodges an 11th-hour appeal.
During a trial at Forfar, James Ryan was found guilty of being in charge of the animal when it bit Canadian visitor Charles Andrews on the leg and arms on Lower Hall Street on June 11.
Ryan was found guilty of being in charge of a dangerously out of control dog when it attacked Mr Andrews.
The court heard the 62-year-old had taken the dog out for a walk along with a young child, of whom it was "protective".
Depute fiscal Robbie Brown described the child's presence as a "catalyst" for the attack.
The court also heard from Kai's owner, who said the rottweiler is a "loving dog" who was taken out for a walk without permission.
Wendy Ross, 34, said Kai was taken from her partner's flat on Lower Hall Street "without his proper lead".
"Kai has a very thick steel chain," she said. "He's a large dog and he needs a proper lead on him otherwise it might snap. I would like the court to know Kai is a wonderful loving dog.
"In the right hands he's fine but he's my dog and he only listens to me because I'm his owner. It's been very hard not having Kai."
The court heard from a 17-year-old student, who cannot be named for legal reasons, and her mother.
The older woman said: "I saw him jump against the gentleman who had the bites, with paws on his chest.
"I saw one of his legs had been bitten and he was bleeding a lot."
Ryan's solicitor Angela McLardy submitted that he did not have reasonable apprehension that the dog would be dangerously out of control, but this was rejected by Sheriff Gregor Murray.
Ryan, of Lower Hall Street, Montrose, gave evidence.
He said: "I was walking the dog with the child at the side of the road.
"The couple were coming towards us and I tried to tell them don't touch the dog because it will bite you, because it was protective of the bairn.
"By that time it had bit him."
Sheriff Murray told Ryan: "In my opinion the dog was dangerously out of control and I find you guilty. I think in all conscience it's too serious for a fine."
Sentence was deferred to January 14 for the preparation of criminal justice social work reports.
Sheriff Murray then said: "It is a matter of considerable regret that I consider Kai would constitute a danger to public safety.
"I have every sympathy for Ms Ross but the fact is the legislation compels me."