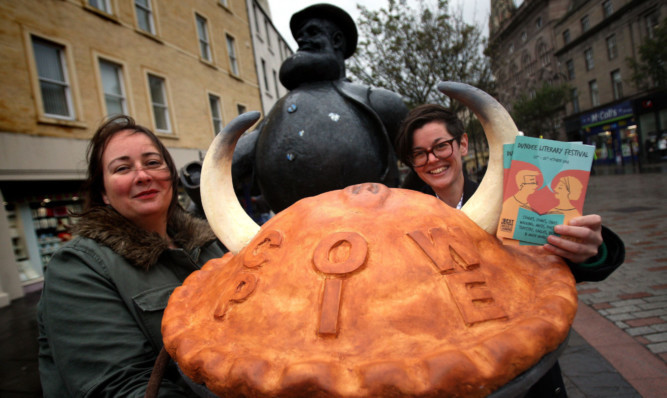 One of Dundee's best loved characters warmed up for the city's literary festival with a unique presentation.
Desperate Dan is renowned for his love of cow pie, and festival director Anna Day and programme manager Peggy Hughes offered up a giant three-foot-wide version of the dish to the statue on High Street.
The model, which was carved out of foam, moulded in silicon and then cast in acrylic fibreglass, is being used to promote the comic book section of the festival.
Peggy Hughes praised the idea and hoped it would help people take notice of the festival, which starts on October 22.
She said: "We hope the literary festival can celebrate some of the things that Dundee is known for, and the pie specifically helps bring attention to the journalism and comics industry.
"Our comic book events are a big part of the festival so we're hoping Dandy and Beano fans will come along."
The pie first appeared in the 'Wha's like us? A nation of dreams and ideas' exhibition at the National Library of Scotland earlier this year before it was donated.
She praised the donation given by the library, and also DC Thomson for their involvement so far.
She said: "It's been donated by the National Library, in collaboration with DC Thomson, and it's a really fun idea that I hope will help people engage with the festival.
"We really appreciate that they wanted to help, and people like DC Thomson collaborating with us is really important for the festival."
Jackie Cromarty, who manages exhibitions at the National Library, was happy to have contributed.
She said: "Our Wha's Like Us? exhibition celebrated great Scottish ideas and inventions and we were delighted to include Desperate Dan in this roll of honour.
"We have been very pleased to donate this replica of his favourite dish to help back Dundee's successful literary festival."
More than 60 workshops, talks, book signings, and other events will be held over the festival's five-day run. Tickets for all events can be found online.